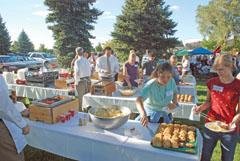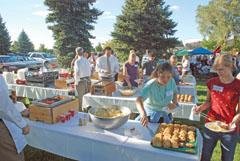 As part of Welcome Week, religious leaders from the community gathered on the Multipurpose Lawn on Wednesday to educate SUU students about the different churches available in Cedar City.
Sixteen churches were represented at the event, including the First Baptist Church, the Seventh-Day Adventist Church, The Church of Jesus Christ of Latter-day Saints and Christ the King Parish.
Students received pamphlets, water bottles, ice cream, candy or baked goods from almost every booth. The LDS Institute of Religion provided sloppy joes for students in attendance at the activity.
Mindy Crockett, a junior nursing major from Lehi, said the event helped students learn not only about their own churches, but other churches as well.
"(These activities) help you realize there's a lot of people out there," she said.
Religious clubs also attended the event. Steven Walquist, a sophomore engineering technology major from Cedar City, helped manage the booth for Campus Christian Fellowship.
"We try to spread Christ around campus," he said.
Campus Christian Fellowship provides bible study on Wednesday nights, Walquist said.
Cambry Bracken, a freshman art major from South Jordan, said she enjoyed the opportunity to mingle with other students at the Welcome Week activities.
"There's not a lot of chances during class time to meet new people," she said. "Everyone is focusing on their studies."
Many churches were grateful to have the opportunity to meet new students and spread the word about their services, said Rudia Williams, department of history and sociology secretary at SUU and member of Trinity Lutheran Church.
"It sure beats going door to door," she said.
A potluck takes place once a month at Trinity Lutheran Church as a way to reach out to the community, she said.
Nicole Creer, a junior biology major from Spanish Fork, said students were just as grateful to meet their religious leaders.
"I didn't even know who my ward bishop was," she said.
Religious leaders provided interesting information about their beliefs, said Mitch Grimshaw, a junior engineering technology major from Enoch.
Reverend Susan Wiltsey Smith from St. Jude's Episcopal Church said her church is the U.S. version of the Anglican Church.
She said her church's purpose is to help people be more involved with their individual faiths.
"We believe God is in everyone," Smith said.
St. Jude's Episcopal Church has an interactive spiritual map, which is called "The Labyrinth," at their chapel located on 70 N. 200 West. Smith said the map is an idea that comes from the middle ages and is meant to clear the mind and spirit.