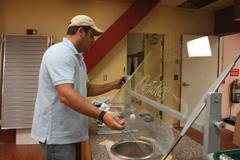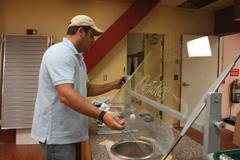 Chartwells Educational Dining Service, a company specializing in providing food services for academic institutions, will be replacing SUU Food Service to offer the campus community a new palate of culinary experience.
SUU President Michael T. Benson said the change came about after former SUU Food Service Director Mo Hinton announced his retirement in the Spring 2008 semester.
After the contract was put up for a bid, Chartwells was selected from three contenders for their high-quality food, service and affordability, Benson said.
The change is intended to improve the quality of the service to the SUU community, he said.
One thing Benson said he had noticed was that very few faculty and staff members stayed on campus to eat, and he hopes the changes will appeal to them as well as the students.
Hinton expressed concern about the fate of monies raised by the Food Service that went into scholarships.
"When I was there, I thought we kept everybody reasonably happy and we made money for the university which went into scholarships and housing scholarships and so forth," Hinton said.
Dean of Students Dale Orton said the SUU Food Service, the Bookstore and resident life auxiliaries together donated upwards of $100,000 every year to put into general scholarship funds.
"That's why it's so important for the students to support the Bookstore and the food service and of course, residential life, because it impacts so many students that way," he said. "It's a pretty good chunk of change every year that goes to that, in addition to all the other benefits."
Chartwells has agreed to keep the donations to scholarships going with amounts consistent with what the SUU Food Service donated, Orton said.
In addition to continuing SUU scholarship donations, Chartwells has committed to invest approximately $600,000 in renovations and infrastructure remodeling in the Sharwan Smith Center.
"We are converting the Country Store to our Outtakes store," SUU Chartwells Director Don Kuhn said. "We have painted the (Thunderbird) Circle and this location will be a one-price 'all you care to eat' area. As we move forward, we will be putting in a stand alone salad and soup bar in the dining area."
Remodeling and construction improvements aren't the only changes that will be instated, said Brenda Fonteyn, a Thunderbird Circle supervisor for the Chartwells program.
The food service will be "going green," instituting such measures as eliminating the use of plastic trays, weighing the wasted food to gauge how much food doesn't need to be prepared and not having straws available, Fonteyn said.
The new enterprise has also been beneficial to the former employees of SUU Food Services, Fonteyn said.
Employees that qualified were hired by Chartwells, and those working a minimum of 35 hours per week began to receive medical and dental benefits, she said.
"There will be a lot of positive things coming out of Chartwells being in charge," she said.
Chartwells will also be hiring students to help with the food service, Kuhn said.
Hinton expressed concern that a private company might not have the same priorities and opportunities that the self-run SUU Food Service had.
"When I was the director of (the food service) I always looked out for the welfare of the college as a whole," he said. "With a private company, I don't know that they're going to do all the kinds of things that we did, because they've got their shareholders to look after."
Though not everyone is excited for the changes, many students appreciate the improvements to cafeteria food.
Kenny Apilli, a junior athletic training major from Raleigh, N.C., said he has been eating at the Thunderbird Circle all summer and liked the changes in Chartwells food.
"I like how they have different varieties of stuff," he said. "Last semester they didn't have all this stuff. I like the variety of stuff they have now. The service is quicker and better, too."
Chartwells provides food service for more than 600 schools across the United States, including the University of New Mexico.
"They seem very responsive to the students and their needs," said Tim Backes, general manager of The Student Union at the University of New Mexico.
Though so many changes can take some adjusting to, Kuhn said he is optimistic about the relationship between SUU and Chartwells.
"As with any transition, there are always bumps as you move along, but overall the transition has been pretty smooth," he said.