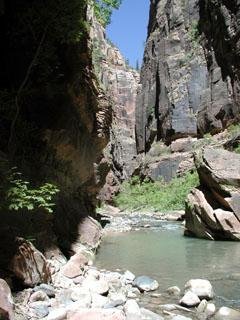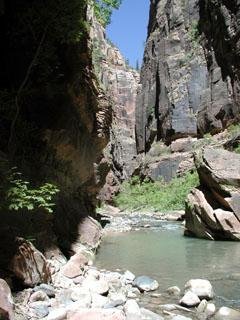 The Virgin Narrows and other parts of the Virgin River will now be protected under the recently passed Washington County Lands Bill, which ensures its conservation for years to come.
The Washington County Lands Bill sponsored by Senator Robert Bennett (R-Utah) and 2nd Congressional District Representative Jim Matheson (D-Utah) designates 165 miles of the Virgin River as wild and scenic, according to a press release from the Utah Rivers Council. Most of that designated area is found in Zion National Park.
The bill passed the House of Representatives last week and will be signed by President Barack Obama today.
The Utah Rivers Council also said in its press release that the designation of the river, which has been a supplier of water to Washington County and northern Nevada areas, will help to maintain high water quality standards and help sustain wildlife. The designation is the first of its kind in Utah's history.
"This is a very gratifying day for everyone in southern Utah that has been seeking solutions to the wilderness problems in their backyards for more than a decade," Bennett said in a press release. "It's personally satisfying for me to be able to bring conservation groups together with local officials in a way that has not been possible before."
Bennett has been working on this issue for five years, spokeswoman Tara Hendershott said. She said Bennett thought it was important because it sets a precedent for Utah on how to handle public land issues in the future.
According to the Wild and Scenic Rivers organization Web site, the U.S. Congress created the organization in 1968 to preserve rivers with outstanding natural, cultural and recreational value.
The act protects "the special character of these rivers, while also recognizing the potential for their appropriate use and development. It encourages river management that crosses political boundaries and promotes public participation in developing goals for river protection," according to the site.
The bill designates 256,338 acres of wilderness on land managed by the Bureau of Land Management, U.S. Forest Service and the National Park Service, including more than 94 percent of all BLM Wilderness Study Areas in the county and enlargement of Zion National Park, as wilderness areas.
Alyson Heyrend, spokeswoman for Matheson said Washington County has some extraordinary places around Zion National Park and the Mojave Dessert and this bill gives locals the opportunity to designate areas to conserve as their communities expand.
"What it's geared towards is dealing with the situation in Washington County which is the one of the fastest growing counties in the country," Heyrend said. "It gives them a road map as to how they want to grow, especially spaces that need to be reserved. It also lets the community have a conversation about how they want to grow and where they want to develop"
Nat Pin, a senior outdoor recreation in parks and tourism major from Sandy, said the Outdoor Center is active in Zion National Park and the new bill "sounds like it has good potential."