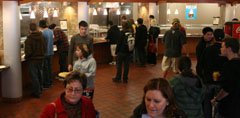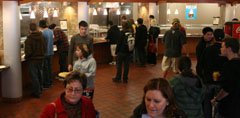 This New Year it's out with the old and in with the new for Chartwells Educational Dining Service, which in addition to the renovation now offers meal plans catering exclusively to SUU faculty and staff.
The faculty and staff were first informed of the new meal plan offers last semester and were reminded again on Wednesday with a $2 coupon redeemable at the T-Bird Circle in hopes of swaying decisions about buying a meal plan.
Chartwells Director Don Kuhn said the meal plans are being offered for the benefit of the faculty and staff.
"We are offering this so that the faculty and staff have the opportunity to come and eat at the T-Bird Circle without having to pay the door price every day," Kuhn said. "These plans are set up so that they can save some money by coming in and eating at the circle with a plan."
However, when faculty and staff were asked about the new meal plan offers, many said they were too expensive.
The first "Big Red" meal plan, costs $435 and includes 50 meals and $125 in "flex dollars". The second, "Red ' White", costs $230 and includes 25 meals with $75 in flex dollars.
Flex dollars can be used at other Chartwells retail outlets on campus including the T-Bird Grill, Outtakes, HogiYogi, Teriyaki Stix, and Starbucks.
SUU Administrative Assistant Robert Ogie considered purchasing a meal plan offer, but after doing the math decided against it.
"Although a person will save 25 cents per meal, the food selection was not good and the outlets are highly overpriced and the flex dollars are not enough to save," Ogie said. "You'll end up spending more just to use them."
Academic Support Coordinator John Shafer said he would not use a meal plan.
"I have always brought my lunch from home, and I am not going to change now," Shafer said.
Some instructors such as Lynn Brown, executive director of the Student Support Center,decided against the meal plans for personal reasons.
"The food is good but the buffet style contributes to my over-eating," Brown said.
Like Brown, Tina Calamity, multicultural counselor, liked the food but didn't think the meal plans were right for her.
"It's convenient and the food is good, but I probably won't use it because I don't eat out enough," Calamity said.
Although the Big Red and Red ' White meal plans are only offered to faculty and staff, students may purchase one of two other student meal plans.
The Juniper meal plan is mandatory and designed for students who live on campus with prices ranging from $1,261 to $1,644 per semester.
The other is a voluntary meal plan for students who live off campus and can be purchased for $600 to $900 per semester.