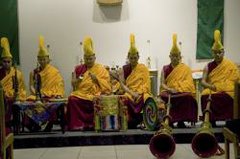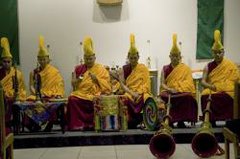 Tibetan monks from India who live in an exile community shared their chants and meditation ceremonies with SUU students and community members Oct. 8 as part of the St. Jude's Episcopal Church "Hey Jude" series.
"Hey Jude" takes place on Thursdays and is designed to offer a time of unity and sharing for members of the community, said Rev. Susan Wiltsey Smith, of St. Jude's Episcopal Church. Smith said the event is a chance to "lay your burdens down."
"It is an open time to explore, think, feel and find unity in diversity," Smith said.
Oct. 8, Tibetan monks, currently on tour with The Mystical Arts of Tibet World Peace Tour, chanted and offered medicinal prayers. The monks had previously been in Los Angeles and Mexico City before arriving in Cedar City.
Lobsang Paljor, a monk born and raised in India, said he began his religious education at 11 years old.
"I saw monks and they seemed happy, not contentious. That's when I decided to join the monastery," Paljor said. "No human being is perfect, but they can be perfect in learning."
The monks have been exiled from Tibet, which has been ruled by the communist Chinese government since 1959. Paljor said there is no free practice of religion in Tibet.
"People have been expelled from their own land. The monasteries have been shut down," Paljor said. "No one is allowed to do religious rituals unless they receive permission from Chinese authorities or else you would get arrested."
Midge Henline, a Hurricane resident, has hosted monks in her home since 1999. Henline said two of the monks in the group are geshes, which is comparable to earning a Ph.D. in Buddhist Philosophy and sometimes takes 20-25 years.
"All monks are students," she said. "They leave their families for India to study in peace and freedom."
The Mystical Arts of Tibet World Peace Tour has three objectives, Paljor said. The primary objective is to promote global peace for all humans and the second purpose is to share philosophies with different religions and raise awareness of the situation in Tibet.
"Our (third) objective is to get donations that would provide 3,000 monks with food, shelter and education," Paljor said.
The monks study at a monastic university in the Carnatic Estate in India. Thupten Tendar, a translator for Geshe Tashi, said monks practice every day.
"The full moon is a special holiday for prayers," Tendar said.
The monks began their meditation ceremony wearing bright yellow hats, but later took them off. Bells, cymbals and other instruments were used throughout the hour-long chanting. Speaking Tibetan as well as Sanskrit, the Monks chant in a monophonic tone, symbolizing positive energy.
While the sound is extremely low, Tashi said it does not hurt to make the noise after "chanting for hours a day."
Symbolism is throughout the ceremony, for example the hats. Tashi said there are "many" profound meanings behind wearing the hats.
"Each has a special significance," Tashi said. "We start the chant with the hats on as a reminder to the audience to be positive, and to utilize wisdom and compassion in every day life and practice."
A free dinner prior to "Hey Jude" begins at 5 p.m., with the event starting at 7 p.m. tonight. SUU student Alyssa Skirvin, will play the harp and next Thursday, Alex Twitchell performs on the vibes.
Alyssa Goerihg, a freshman dance major from Highland, said "Hey Jude" is interesting because you get to spend time with many different people.
"It's cool to meet people you don't know and experience different cultures," Goerihg said.
Amanda Tillotson, a freshman sociology major from Highland, said the event is a good idea for students on campus.
"It's a chance to see many different cultures which you might not find in Cedar City," Tillotson said.
Goerihg and Tillotson said they plan to come each week to see what event is offered.
Smith said "Hey Jude" is not a church service or associated with church doctrine; rather, it is a time of community, sharing, music and contemplation of all aspects of life.
"It is a time for the individuals of the community to come together," she said.
Smith plans to have meditation or yoga once a month and the other weeks will feature live music, poetry and silent meditation.
St. Jude's Episcopal Church is located at 200 W. 70 North.