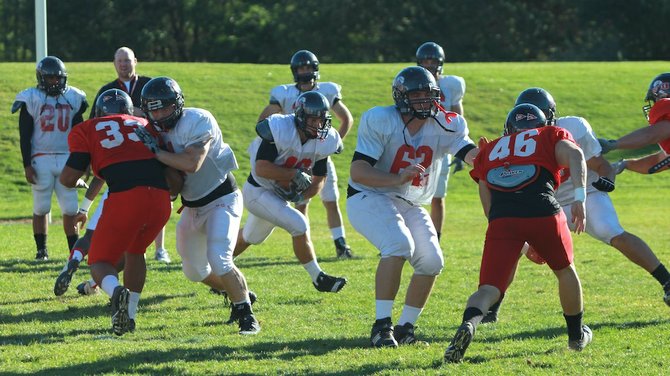 Photo Gallery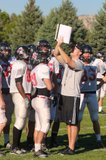 The T-Bird football team will host No. 13 California Poly in its homecoming game Saturday at Eccles Coliseum.
The Mustangs are 4-2 and coming off a 50-37 win against Old Dominion.
After getting down early, the Mustangs took the lead with 20 straight points and never looked back. Cal Poly closes its fifth straight road game this weekend.
SUU won its conference-opener on the road against North Dakota 31-21.
Sophomore quarterback Brad Sorensen threw 35 completions, which tied the SUU record for most completions in a game, for 413 yards. Senior wide receiver Tysson Poots' effort moved him up to the fifth-best in total receiving yards in a game in school history with 210 yards on 13 catches.
Poots said the win against North Dakota boosted the team's energy and spirits for the games to come.
"We've had a few tough losses and hard games," he said. "There have been a lot of mixed emotions around the team and that win definitely gives us confidence going into the rest of the season."
Football head coach Ed Lamb said the T-Birds are focused on winning the Great West Conference this season.
"There really wasn't a deadline before we played North Dakota," Lamb said. "The purpose of a deadline is to concentrate the mind, and the players' minds are definitely concentrated of the conference and Cal Poly in particular."
He said the Mustangs are a tough team and run a different offense than the T-Birds are used to.
"Anytime you're playing an option offense, you've got to get the lead early," Lamb said. "When Cal Poly is behind, it doesn't play to their suit because they want to grind the clock and run their system of offense not throw the ball around and play catch up. Also, our defense needs to learn a whole new series of keys and reads."
Poots said that in order to catch the Mustangs off-guard, the offense must keep them guessing.
"We are going to mix things up," he said. "They have a good defense but, we are going to catch them in the right formations to do run or pass plays."
Lamb said last week North Dakota allowed the offense to pass the ball but is unsure of what Cal Poly will bring.
"If they are worried about our throwing game, then you'll see our run game happen a lot more," Lamb said. "We don't exactly know how they will choose to play us."
Lamb said he wants the team to participate in the homecoming activities throughout the week but still remain focused.
"It adds extra distractions," he said. "We have to make sure that we participate in the fun and pageantry of homecoming and be a part of the special environment, but at the same time not get caught up in everything going on around campus."
Kickoff against the Mustangs is set for 3 p.m. at Eccles Coliseum with tailgating starting at 1 p.m. at the team's practice field.