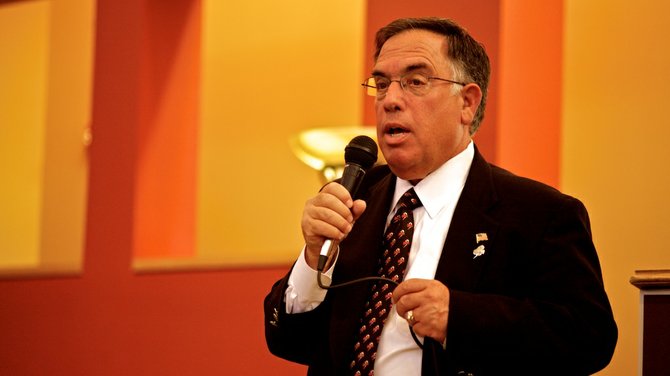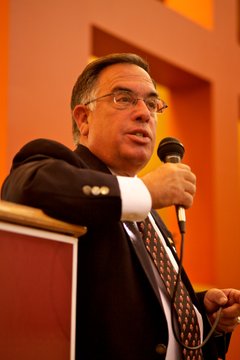 Democratic senatorial candidate Sam Granato emphasized his small-business background and said that it, combined with his party affiliation, could help "bring balance" to Utah in a campus forum Friday afternoon.
"I'm running as a democrat because I can reach across the aisle," he said. "It's not about politics or the 'D' or the 'R' ... I'm not a far left partisan guy, I'm a person who can reach out and help people."
Granato discussed several top issues, including immigration reform, health care, the economy and education.
In regards to education, Granato said that unlike his opponent, he supports federal funding, comparing refusing the funding to refusing free dessert at a restaurant.
He said when "career politicians" stay in congress too long, they begin to treat education like a business. He pointed to No Child Left Behind as a "cookie-cutter approach" that he would be opposed to.
He said he supports immigration reform on the federal level, and while he doesn't support amnesty, he doesn't want to "rip families apart."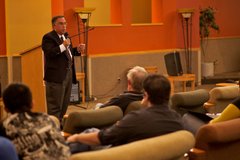 "We're not the divided states, we're the United States," he said. "We need a big fence, we need a swinging gate, we need a guest worker program ... so many (illegal immigrants) are working."
Grenato said that he has watched the health care reform debate with "great anticipation" because he sits on the Intermountain Health Care Board of Directors.
He supports the Patient Protection and Affordable Care Act, but said it was just a "small step."
He said the most important parts of the act include allowing individuals under 26 to stay on their parents' insurance and not allowing those with pre-existing conditions to be denied.
"Health reform needs to happen because it's breaking the backs of middle America, (especially) small business owners," he said. "Once I'm elected (I want to bring) someone into Utah, spend 30 or 60 or 90 days ... and we'll build a vision on how to start the reform."
He said he does not support the wars in Iraq and Afghanistan, calling them "the illegal wars that never should have happened."