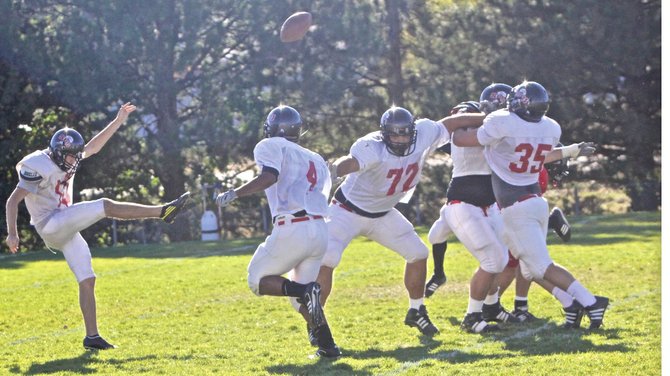 The T-Bird football team will travel to San Marcos, Texas to take on Texas State Saturday at 5 p.m.
The Bobcats are 2-1 after winning back-to-back home games. Last week the Bobcats pulled an upset when they beat No. 17 Cal Poly 21-12.
SUU is now 1-2 on the season with a loss against San Jose State last Saturday. The T-Birds led statistically against the Spartans, but a late touchdown in the fourth quarter lifted San Jose to victory.
Sophomore quarterback Brad Sorensen was taken out of the game in the third quarter with an ankle injury. Despite not returning to the game, he is expected to play this weekend.
Football head coach Ed Lamb said he plans to use Sorensen more as the week goes on. The adjustments made with different quarterbacks is challenging because it isn't the way the team practices.
"It was just a change in the game plan to adjusting to what our other quarterbacks are good at," Lamb said. "It's just a significant difference than the way we practice."
He said he saw improvement in receiving against San Jose but the offense still needs to be steadier.
"Our receivers attacked their secondary well, but we weren't able to hold pass protection consistently enough," Lamb said. "If we improve this, we have some dangerous receivers."
Penalties continued to be a problem for the T-Birds last weekend. Lamb said they have to play smarter and stay out of penalty trouble.
"A lot of our penalties have been blocking penalties," he said. "We've got to work harder to move our feet in position to make blocks."
Freshman quarterback Tyler Arndt has completed 38-of-65 passes for 481 yards and three touchdowns.
with four interceptions in his first three games with the Bobcats.
Lamb said Arndt will be a challenge along with the rest of the talent of the Bobcats.
"Their quarterback is good, young and has a lot of confidence," he said. "They have a good offensive line and an experienced running back, who is capable of breaking off long runs. We'll have our hands full."
Lamb said the T-Birds know what they need to work on in practice to come out successful this weekend.
"We are going to have to attack their offense, move the ball consistently down the field, execute in the red zone and work really hard on defense," Lamb said.
The T-Bird defense has improved over the past few weeks. Junior defensive end Cody Heinreich said their success continues to come with hard work and the effort of the players.
"When success comes, you've got to work hard to keep it," he said. "Everybody is doing their part, and no one is trying to be a one man team. We've been working really hard and staying energized and excited."
Kickoff is set for 5 p.m. Saturday in Bobcat Stadium in San Marcos, Texas.