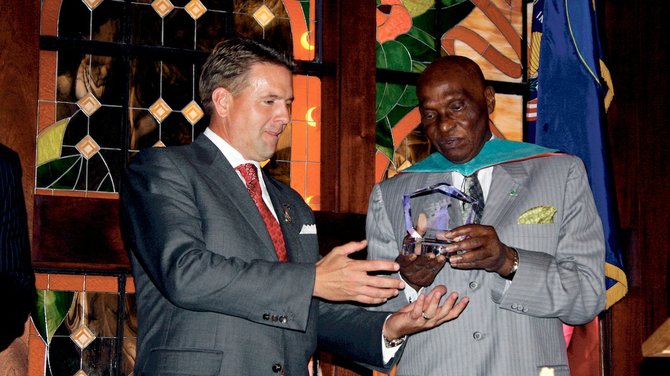 Photo Gallery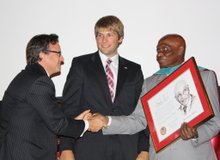 Senegal President Abdoulaye Wade, in a visit that emphasized the importance of higher education and ethics, received an honorary doctorate degree from SUU on Sunday.
The visit — the first from an acting head-of-state to SUU — included a speech from Wade to a crowd that overflowed the Great Hall, in which he accepted the honorary degree.
Wade, who was elected in 2000 and is currently serving his second term as president, has a history of supporting education in Senegal. Approximately 40 percent of the Senegalese operational budget is devoted to education, he said.
Wade, who is currently writing a book on the strategy of governmental development, said his experience with higher education in the United States during his visit has given him reason to include a chapter on teaching ethics and values.
"I am a professor — I taught in Paris and in Senegal — but I have never heard about teaching values," Wade said. "(Francois) Rabelais, in the 16th century, said, 'Science without conscience is but the ruin of the soul.' What he was saying then was right. It brings me to be conscious of the importance of values in the development in university programs."
Values vary between societies, and some values may be unduly justified, Wade said during his public address.
"What is a value for a given society is not necessarily such for another one," he said. "There is a scale of values, as I said, but there are, unfortunately, bad values that come from tradition. If you take the case of circumcision, that is a tradition in Africa, but it was a practice of morality at the time. Now, we have totally forbidden this practice in Senegal."
Wade, in the process of developing an international-level university in Senegal, said he is interested in developing a university that will benefit African education in cooperation with other institutions.
"The African student comes to the United States or Europe, and after obtaining their degree, will just stay there," he said during the press conference. "That is a loss for Africa. So, I announced a new concept of a university that will be built in Africa ... that will have agreements with the highest universities in the world, in the United States and in France, so the student can follow the course by satellite in real-time.
"There, they will get a diploma that will be signed by the University of Dakar but also by the correspondent university."
Wade said he has reached out to an number of international and American institutions, including Dauphine University in France and, in the United States, Harvard and MIT. SUU was also mentioned as an institution the Senegalese president has considered.