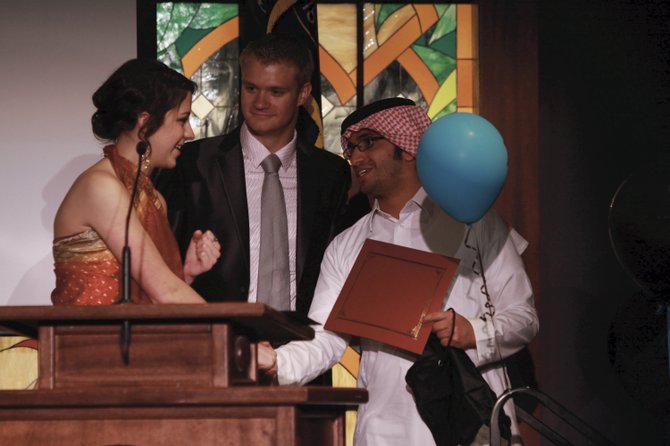 The Multicultural Club banquet Wednesday in the R. Haze Hunter Conference Center recognized outstanding members and successes the club has had in its first year.
Cassidy Hill, a senior management major from Centerville and club executive vice president, said the members wanted to celebrate their first year and honor those who put in extra effort to make the club what it is.
The evening included food, a slide show of pictures from activities, awards and dancing to music from various cultures.
Shaka Richardson, club president and founder, said he never thought the day would come when the club could meet together like that.
Richardson said the club started last summer with just one member — him.
He said it later grew to five people, and they started it all.
At the banquet almost all the tables were filled, which occupied more than half of the Great Hall.
Several members said they were grateful to have the club, and had learned about other cultures because of it.
Abdullah Alhomaid, a master of business administration student from Riyadh, Saudi Arabia, and winner of an outstanding member award, said he was thankful for the friends he had made through the club.
"Everyday they help me with anything I need (such as) homework or research. Everyone is so friendly. I am thankful for their help," he said.
Alhomaid said he has eaten Chinese, Korean, Ethiopian as well as other types of food while in the club.

He said students should join the Multicultural Club because of all the things they can teach to and learn from other students.
Another student grateful to be in the club was Meskerem Wollebo, a freshman biology major from Shashamane, Ethiopia.
"The club became my second home and cured me of my homesickness," Wollebo said.
She said she loves the diversity and uniqueness that the club brings together.
Wollebo said that she was looking for something that mixed cultures, and she first found about the Multicultural club at the club fair.
She said from the first day in the club she went and made friends and has continued to meet new members.
Wollebo said she went on the club's spring break trip where they built homes in Las Vegas for Habitat for Humanity.
"It was absolutely amazing," she said.
Wollebo is a vice president of recruitment for the club and will be the treasurer next semester.
Many club officers thanked Richardson for the effort and time he put into the club.
Richardson said he will be graduating but he said the incoming president Sarah Webber, a freshman communication major from Payson and reporter for the University Journal, and other officers would continue to lead the club.
After the awards, speeches, hugs and pictures, students began to dance in the rear of the hall.
Members plugged their iPods into the stereo system and played and danced to music from their own cultures.
"Every event turns into a dance party, even the serious ones," Hill said.