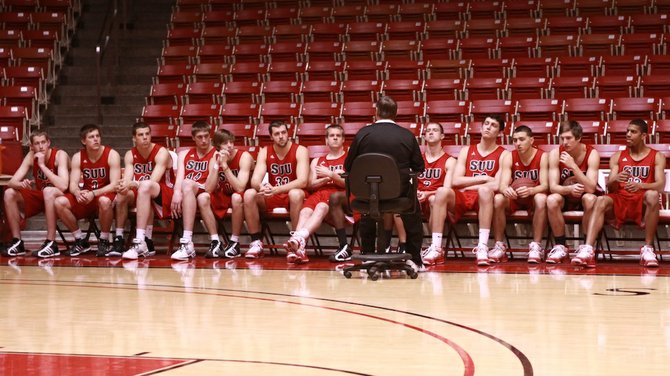 After winning three of its last four games, the T-Bird men's basketball team will conclude its regular season and prepare for the postseason by facing Indiana Purdue-Fort Wayne on Thursday and Oakland Saturday.
SUU (9-17, 6-10 Summit League) followed a shocking win over Indiana Purdue-Indianapolis on Thursday with a win over Western Illinois Saturday, which helped the T-Birds clinch a spot in the Summit League tournament.
It was the first time SUU swept a two-game conference road weekend since the 2003-2004 season.

Guard Ray Jones said the key for SUU during the road trip was the bench players' ability to step up in crucial moments.
In Thursday's win over IUPUI, the T-Bird bench players outscored the Jaguars 58-8.
"We needed that boost," Jones said. "The first five couldn't get it going but the second five pulled through. You can't even look at them like a second five, we really have like 10 starters."
SUU will now look to take the momentum set by its bench players into its final regular season week, which will be against IPFW and Oakland.
The Mastodons are currently slated to be the No. 4 seed in the conference tournament, while the Golden Grizzlies have already locked up the No. 1 seed for the second-straight year.
The T-Birds will look to extend a streak where SUU has shot 54 percent from the field in its last five conference games, while holding opponents to just 42 percent.
Including the T-Birds' 63-59 victory over Cal State-Bakersfield on Feb. 2, SUU has shot 52 percent from the floor in its last six games — winning four and losing to Missouri-Kansas City and Oral Roberts by a combined 5 points.
"That's pretty good basketball," head coach Roger Reid said. "When you're shooting 52 percent and they're shooting 42 percent, you should win some games."
The T-Birds shot 62 percent (51-of-82) in two games on the road last week, but also forced their two opponents to just 46 percent (42-of-95).
Reid said he believes the team has finally grasped the value of defense and it is the reason for SUU's sudden improvement.

"I think the guys are finally understanding defense," he said. "It's the hardest thing to come across and teach because most players come out of high school and junior colleges as good offensive players … they're understanding that to win, you have to play defense."
Despite an inauspicious start to SUU's season, which began with an exhibition loss to NAIA Montana-Western and beginning the regular season losing to Cal Baptist, Jones said nobody on the team lost faith in each other or the goal to make it to the conference tournament.
He said the recent success has been from the team's ability to not lose focus on its goals from the beginning of the season.
"We started off real rocky but we saw that we had pieces and we saw that we could be good," Jones said. "That's what was important in the beginning because it's not really how you start, it's how you finish. This is when you want to be playing your best ball and we are right now."
The T-Birds will begin the week against IPFW (17-10, 10-6 Summit League), which has been one of the conference surprises this season under sixth-year head coach Dane Fife.
The Mastodons went 6-3 in the first half of conference play, including a 5-0 start. However, IPFW has cooled off with losses in three of its last five conference games.
Guard Frank Gaines has led the team all season, which has led to his emergence as a first-team all-conference candidate this season. He averages around 15 points and six rebounds per game.
Guard Ryan Brimley said he felt like SUU "owed" IPFW in a good game after a couple of errors in the closing four minutes of the two team's last matchup cost the T-Birds a win in Fort Wayne, Ind.
SUU lost that game 77-66.
Brimley said the team is aware that the Mastodons thrive on 3-point shooting and will focus on defending it Thursday.

"They're playing well," he said. "They're a lot like South Dakota (State), as in SDSU shoots the 3 real well, just like IPFW … we'll probably be more focused on stopping those 3-pointers because they shoot it well from outside."
The Mastodons have shot 39 percent from beyond the arc this season.
Following IPFW, SUU will conclude its regular season against Oakland, which will also be the T-Birds' Senior Day.
Brimley, SUU's only senior, said he isn't sure how he will react to his final collegiate home game.
"It's going to be weird," he said. "I don't know if it has hit me yet or will hit me then or when it will hit me, but it's going to be emotional."
Oakland, the T-Birds' opponent for the game, is led by defending conference Player of the Year Keith Benson.
Benson, a center, averages 17.6 points per game and 10 rebounds — the 20th most in the country. He also is tied for second in the nation in blocks, registering 3.9 blocks per contest.
He has been widely regarded by ESPN and other national publications as an NBA Draft pick this summer and as one of the best mid-major players in the country.
Oakland (20-9, 15-1 Summit League) suffered its first loss in conference play this season on Feb. 5 at IUPUI, losing 100-88. However, the Golden Grizzlies have gained notoriety this season for their upset of then-No. 7 Tennessee on Dec. 14.
Oakland has also threatened Illinois and Michigan State with close games this season.
"We have the ability to matchup with (the Golden Grizzlies)," Brimley said. "We have some of the same parts as they do."
The T-Birds will have a chance to move up in the conference rankings this weekend, if SUU wins both games. The T-Birds would then have a tiebreaker over North Dakota State for the No. 7 seed.
If SUU remains at the No. 8 seed, it will play Oakland in another rematch on March 5 in Sioux Falls, S.D.
Brimley said that might give the T-Birds a slight advantage in scouting for the third game because of SUU's bench.

"We're one of the hardest teams to scout," he said. "If we're able to key what they do, it could be huge heading into the conference tournament because once the tournament starts, everyone is 0-0."
Tipoff against IPFW is scheduled for 7 p.m. Thursday inside the Centrum Arena, while tipoff against Oakland is slated for 7 p.m. Saturday.