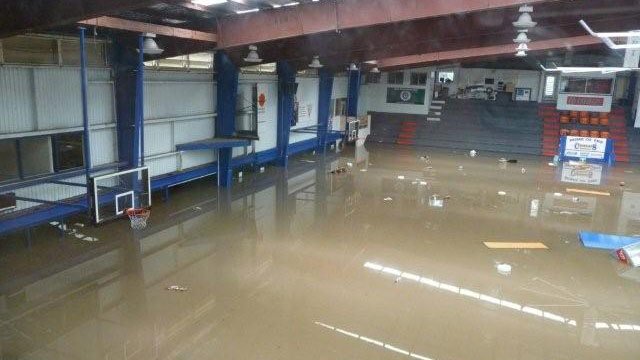 Map
Queensland, Australia
Quarters for Queensland donation cans will remain on campus another week to aid Australian flood victims in a fundraiser started by The Global Engagement Center.
Kurt Harris, interim director of the Global Engagement Center, said SUU has a partnership with the Central Queensland University and has several students whose friends and family were affected by the flooding.
He said that figures keep mounting about how much clean-up in Queensland will cost, and some estimates say $7 billion.
Harris said he was inspired to do the project by elementary school students' Pennies for Peace, which raised money for Greg Mortenson's Central Asia Institute.
"A quarter a day seems like nothing, but many stray quarters can turn into thousands of dollars," Harris said.
He said their goal is $5,000, and if each student donated a quarter a day for two weeks, their goal would be surpassed.
Matthew Massey, a senior finance major and member of SUU's men's basketball team from Brisbane, Australia, supports the project.
"Anything helps," he said. "Just knowing that people care is absolutely amazing."
Massey said his hometown was severely flooded. He said his parents were cut off and had to rely on food they had in the house.
He said all the grocery stores were sold out, and his cousins' bottom floor was completely gutted.
Matthew Hodgson, a sophomore psychology major and member of SUU's men's basketball team from Ipswich, Australia, also had friends and family affected by the flood.
He said his family had to move in with his grandparents because of house damages, and some of his friends lost everything.
He said that many insurance companies are not paying for damages, and people feel betrayed by the government because they have received little help.
"(Quarters for Queensland) is a good cause," Hodgson said. "People have lost so much. It's far away, but it means a lot for them."
Peter Spencer, a junior secondary education major and exchange student from Rockhampton, Australia, said he was also affected by the flood.
He said he had to leave three days early with only an hour's notice to fly to America before the airport closed down due to flooding.
He said he hardly had a chance to say goodbye to his wife and son.
Spencer said his house was fine, but two of his family members' houses were surrounded with water.
Many people are in need of help, he said.
"You're not going to miss that dollar," he said. "You never know when you'll be the one who needs the help."
Harris, of the Global Engagement Center, said 100 percent of the money donated will go to the Queensland Premier's Disaster Relief Fund.
Harris said the partnership school was not damaged, and SUU does not currently have any students studying there.
He said students can contribute in the cans until Feb. 3 or online with a credit card.
Harris said he is grateful for the Service & Learning Center, as they will take care of the cans and provide volunteers to distribute them.
More information can be found on the Quarters for Queensland Facebook page.