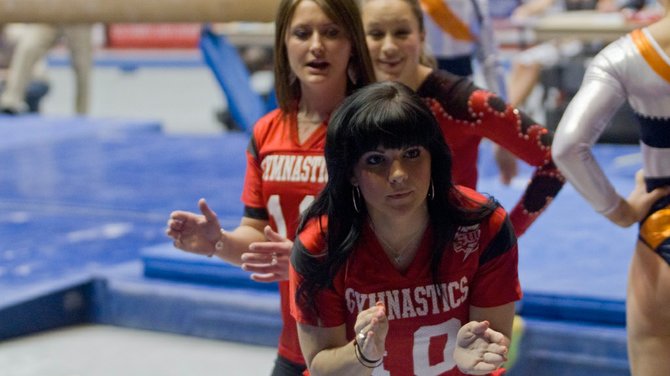 A loud cheer roars from the stands as gymnast Jenna Vogt is introduced during Monday's meet against Auburn and Brigham Young University.
"A senior from White Bear Lake, Minn.: Jenna Vogt," stadium announcer Cal Rollins says emphatically. Then on queue, Vogt gingerly struts out onto the Centrum Arena floor with a protective boot attached on one leg.
It's not the cliché moment seen in movies like Rudy, where the senior athlete conquers their one last contest in front of friends and family — walking off into the sunset amongst the cheering of fans.
That's the moment Vogt envisioned her career ending — hugging her teammates and walking out of the Centrum Arena confidently. But that dream ended on a cold December afternoon.
Instead, Vogt spends her second to last home meet, Monday, sitting near her teammates, coaching and cheering them during their routines, the same way she will spend her final home meet Saturday.
Vogt said she never believed that she would spend her senior season away from competition, but a torn Achilles tendon shelved Vogt's final year with the T-Birds before it even could begin.
"I envisioned (this season) as me being on the team and contributing to win," Vogt said. "It's hard sitting on the sidelines … all I wanted during my senior year was to have fun."
However, Vogt isn't the only senior that will miss out on the T-Birds final home meet of the season.
Bailey Pendley, a fifth-year senior, injured her elbow on a fall during her floor exercise routine in SUU's home meet against Sacramento State on Jan. 21.
She hasn't competed since the injury.
"It's been really hard to think that it's kind of all over soon," Pendley said. "It's going to be a rough night for me."
Head coach Scott Bauman said it would be tough to watch both Vogt and Pendley sit out Saturday's meet.
"That's really hard (to watch)," he said. "Bailey had her senior meet — she's had two now. Her first one she dominated at — but Jenna, she won't get that."
In last year's senior meet, Pendley scored 9.700 on vault and 9.775 on floor as a motivated T-Bird squad edged BYU.
She said it was an experience she would never forget, especially because at the time, she said she didn't know if she would return as a fifth-year senior.
"I thought I was done, I hadn't decided to come back for a fifth year yet," Pendley said. "I was pretty emotional then … it was just such a gratifying experience. It was sad and it was bittersweet."
Brooke Cersosimo is another gymnast on the team that has been bitten by the injury bug this year. However, she only missed one meet after injuring her leg during a floor routine at Missouri.
Cersosimo returned to the lineup in Monday's win, competing on just the uneven bars event with her foot wrapped tightly.
She said didn't enjoy spending one meet away from competing and said she didn't know how either Vogt or Pendley have been able to cope throughout the process.
"I was out for one meet, so I kind of know how they feel — but not that's not even close as the same," Cersosimo said.
But not competing doesn't make either Vogt or Pendley any less a part of the team than the other members of the team. Both have risen as two of the team's largest leaders by spreading their unique personalities to the members that are still competing.
Pendley said it has been difficult adjusting from a competitor to just a spectator, but said she is committed to her teammates.
"It's really, really hard to be there and not be able to compete because you work so hard in your previous years to get where you're at," she said. "It's really tough but we've found different roles on this team now and that's basically all you can do.
"I know I don't necessarily have a physical role with the team anymore," Pendley continued. "I know I can be there just as much for my team in a different way."
Vogt said she never once thought giving up on the season after her Achilles tear.
"I guess these were the cards I was dealt, so I just have to learn how to play them," she said. "It's just how it is. I can't sit there and be crabby and mad or sad, I just have to still be there for the girls."
Team Leaders
When SUU travelled to Cal State-Fullerton on Feb. 11, it was the first long-distance travel the team made this season. It also marked the first, and subsequently last, time the team travelled without its two injured seniors.
Despite cruising past the Titans in a head-to-head victory, the team scored an uncharacteristic 193.000 on the night — by far the team's season low.
Bauman said the entire night wasn't the same as the five previous meets before heading to Cal State-Fullerton.
"Something was weird and missing," he said. "We didn't like it at all. The last time we were in Fullerton, we had a great meet. Then (on Feb. 11), we didn't."
Bauman attributed the atypical performance on the two members missing during the travel: Vogt and Pendley.
Bauman said the duo of Vogt and Pendley have been instrumental to the atmosphere inside the team locker room in different ways, which is why he now brings them to every road meet.
During Monday's meet, Vogt kneeled quietly, watching each one of her teammates complete their routines in all four events. Though calm, she remained focused on finding ways to motivate her teammates without speaking much.
Pendley's direction lightened tense situations. She huddled around each teammate before and after their routines and found ways to make each teammate laugh and smile. She also provided a vocal motivation during the meet.
Bauman said it's the two different personalities that help loosen the team in difficult conditions, while finding a way to help focus the athletes in competition.
"Bailey is a calm, relaxing figure in (the locker room)," Bauman said. "She gets their minds dialed in. She's really good at that; she's really good at just seeing what expression is on those athletes' faces.
"Jenna is a totally different leader," Bauman added. "She is a leader by sheer example. In the gym, Jenna works … but most importantly, she's an example in competition. She does not like to lose. She goes out to win."
Vogt said she has always believed in putting her team ahead of herself, which has helped mend the difficult reality of not competing. That mindset has made Vogt a well-respected individual within the team.
"It is all about the team," she said. "It doesn't matter how an individual does because their score goes into the final team score. Even if I was out there, I'd be contributing to the team and that's what matters most … I feel as big as a contribution being a mental push for the girls as I would be competing."
Lauren Jeffrey, who has been a teammate with the pair of seniors for three seasons, said they both have found ways to guide the rest of the team during this particular year.
"They're both just always there for us," she said. "Whenever we need them … they're just a really good support system."
Cersosimo said both Vogt and Pendley's determination inspires the entire team to compete well.
"During the meets, they're doing all they can for the team," Cersosimo said. "It does break your heart see someone who wants to compete on their final meet of their career and just can't."
SUU's senior meet is scheduled for 2 p.m. Saturday inside the Centrum Arena against Iowa and Utah State. Seniors Lindsey Schultz, Ari Lamb and Shannon Coughlin will also be honored after the meet.