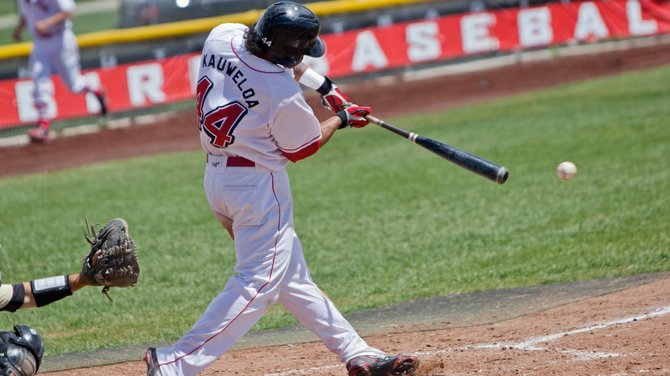 Catcher Taggart Lunceford ripped a two-out fastball to right center for a walk-off single, as the T-Bird baseball team defeated Oakland 7-6 at Thunderbird Park Saturday afternoon.
With the victory, SUU (23-27, 11-13 Summit League) took three of four games in the series.
The T-Birds entered the ninth inning behind 6-5 when shortstop Bo Cutherbertson grounded out to the pitcher and outfielder Mitchell Kauweloa struck out to lead off the inning.
After first baseman Austin Hunt drew a two-out walk, Brian Kenolio hit a pinch-hit single to put runners on first second.
Pinch hitter Marcus Romero then tied the game with a single to right that plated Stephen Rockhill, who pinch ran for Hunt.
Lunceford then came up with runners on the corners and hit the game-winning single to complete the comeback.
Pitcher Chris Chung picked up the victory after pitching five and 2/3 innings of one-run baseball in relief of Chase Rezac. Chung held Oakland scoreless in the final five innings of the game, allowing seven hits and striking out one batter.
Rezac allowed five hits and 5 runs in three and 1/3 innings.
SUU took a 2-0 lead in the first inning when designated hitter Taylor Shaw scored on an error. Cutherbertson then scored on a sacrifice fly by Hunt.
The Golden Grizzlies then tied in the second inning when Aaron Cieslask homered to left field. The ball sailed just over the glove of SUU outfielder Tyson Weber, who flipped over the outfield wall in an attempt to rob the home run.
The T-Birds retaliated in the bottom half of the frame with a pair of runs that scored on a throwing error by Oakland pitcher Aaron Wick to take a 4-2 lead after two innings.
After neither team scored in the third inning, Oakland scored four runs in the fourth inning to take a 6-3 lead and knock Rezac off the mound. The inning was capped with an RBI single by third baseman Mike Carson.
SUU closed within a run in the sixth inning when Weber knocked in an RBI single, but the T-Birds were unable to scratch across a run until the ninth inning.
The T-Birds entered Saturday with 10 wins — tied with Western Illinois in the wins column for the fourth and final spot in the conference tournament with one week to go.
After both teams claimed Saturday victories, the two teams remain tied — although the Leathernecks have two games scheduled against Centenary Sunday.
SUU will close out the season with a four-game series at Oral Roberts next week with an opportunity to clinch a playoff spot.
Go to twitter.com/morningqbshow for Twitter updates from the T-Birds' series against Oral Roberts.