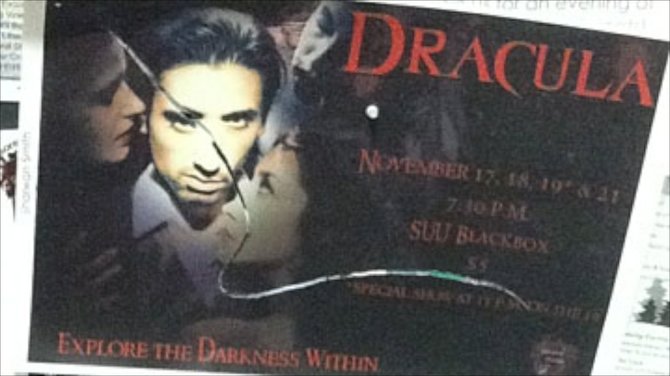 Vandalism of posters has prefaced this week's opening of Second Studio's production of Dracula and some in the group believe the damage targets an openly gay cast member.
Posters in South Hall and the Sharwan Smith Center were slashed, cutting through the face of the show's Dracula, Adan Bojorquez, SUUSA senator for the College of Performing and Visual Arts. Bojorquez is open with fellow students about being gay, and said the vandalism hasn't phased him.
"It doesn't really bother me," he said. "We don't really, or at least I don't, consider it such a big deal if someone is trying to make a comment on my sexuality … or not liking me, I guess. It's just quite a poor attempt at trying to do such a thing."
The show opens Thursday and runs through Saturday. Bojorquez said the vandalism will not impact the cast's performance.
"If there are haters out there who don't want to come see Dracula, well, I guess, boo hoo on them," he said. "It's just a show, and I'm just an actor, and we're just putting on a production. It's not a big deal."
Zach Trotter, a senior theatre arts major from Lehi and the artistic director for Second Studio, said he believes the posters were vandalized between 3 and 4 p.m. Wednesday. He said no other posters on the bulletin boards were damaged.
Bojorquez said that because the vandalism was limited to slashing the poster and didn't include any derogatory messages, it's unclear what the motive was.
"I don't think that there's much of a message being sent by a pen slash on a poster," Bojorquez said.
Bojorquez said he has been targeted for his sexuality at SUU.
"I've been targeted in the past here and out of everything, this is the least of my worries," he said.
The students contacted SUU Public Safety, who will be reviewing security tapes from the Sharwan Smith Center, Trotter said. The group will also meet with Donna Eddleman, vice president of student services.
Assistant Theatre Professor Peter Sham said he saw that in some locations posters for an off-campus musical also featuring gay cast members were slashed.
"The similarity of the crimes sadden me to the core because I believe the vandalism was intended as an act against SUU's gay community," he said.
Nate Marble, a junior theatre arts major from Tremonton and marketing manager for Second Studio, said the vandalism is "hard to take."
"It's sad, really," he said. "It just doesn't seem like we're very unified as a school."
Marble said the damaged posters cost about $20.
"It doesn't seem like a lot, but we only put about $50 into marketing," he said.
The vandalism was inappropriate and could cause serious problems outside of a school setting, Marble said.
"I'm a little different," he said. "I'm 29 and I have a wife and three kids. I've been in corporate America, and if you were to do something like this out in the real world, it's just not accepted."
Trotter said students should not be made to feel threatened.
"Whether or not you are for or against (homosexuality), everyone should be pro safety," he said. "No one should have to be afraid to go to school here."
Sham said emotional bullying should not be allowed at SUU.
"I simply cannot believe and refuse to accept this sort of thing happening on our campus," he said. "Yes, we may have our differences, but that does not give anyone the right to inflict emotional or physical pain on one another."
Second Studio met Sunday night to discuss ways to "bring it to light and show that it's not OK."
"We need to raise awareness," Trotter said. "Whether or not you support people's lifestyles is beside the point. At least that's how we feel at this point."
Trotter said he is concerned because this is not the first time gay students at SUU have been targeted through vandalism.
During the SUUSA Elections in March Payden Adams, a senior theatre major from Cedar Fort, had his campaign posters defaced. Adams is openly gay, and an unknown vandal wrote "homo" and "fagz" on his posters for the activities vice president position.
Marble also said he wonders if this kind of vandalism will continue at SUU.
"It makes you wonder if this is going to happen every time we have a production," he said.
The vandalism will not lessen Second Studio's anticipation for Dracula, Trotter said.
"It's not a new thing, and I think most of us know it's not going to be the last," he said. "We're going to have a lot of extra security at the shows, but other than that everything will just carry on like normal."
Sham said he wants to promote discussion at understanding at SUU for LGBT students.
"I would love to propose a forum where students may speak out on matters such as these," he said. "But, as is always the case, I doubt those who are guilty would attend. And, if they did, it's most probable that they wouldn't listen."