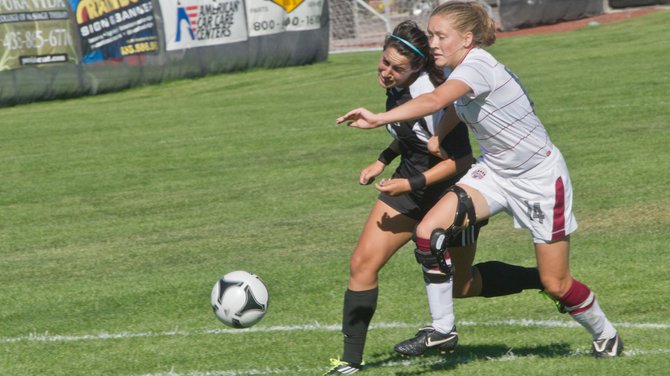 The SUU soccer team was defeated 2-0 by South Dakota State Sunday afternoon.
With the loss, the T-Birds drop to 2-7-2 overall and 0-3 in Summit League play.
The Jackrabbits outshot the T-Birds 22-4 in the game, and all four T-Bird shots were on goal.
Goalkeeper Breana Fitzgerald made eight saves and gave up two goals in the second half, while SDSU goalkeeper Kat Donovan made four saves.
Forward Kelsey Ferguson scored in the 57th minute of the game for her third goal of the season.
The Jackrabbits added to their lead in the 76th minute with a goal by forward Christa Nyblom with an assist from midfielder Danielle Neuhalfen.
The T-Birds were led by forward Amanda Humphreys with two shots on goal.
NDSU 3, SUU 1
The T-Birds suffered a 3-1 loss to the North Dakota State Bison on Friday.
The T-Birds were outshot 14-6 in the first half and 10-7 in the second half.
The Bison scored in the first three minutes of the game when defender Tristyn Walczak scored on the rebound off a shot by forward Brooklyn Dyce.

The SUU defense tightened after the goal for the rest of the half keeping the score 1-0.
T-Bird midfielder Riley Bassett recorded five shots with two on goal and an assist in the game. Forward Sabrina Hernandez had three shots and the T-Birds' only goal off a shot by Bassett. The goal is her second of the season.
Hernandez's goal came in the 58th minute tying the game at one apiece.
The Bison took the lead again in the 62nd minute after midfielder Michelle Gaffaney put a shot past the T-Bird goalkeeper.
An insurance goal was put in by NDSU forward Anisha Kinnarath in the 83rd minute off a deflected free kick.
Despite the three goals allowed, SUU goalkeeper Breana Fitzgerald had six saves during the match.
The Bison were led by Gaffaney, who had five shots and a goal. Six NDSU players had shots on goal, with three different players getting the ball into the net.
NDSU tallies another win at home where they are undefeated and are now 8-2-1 on the season and 1-0 in the Summit League.
Next, SUU travels once again, heading to Utah Valley on Oct. 10 in Orem.