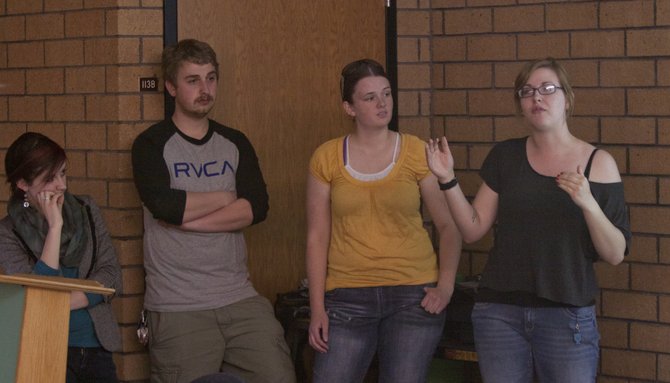 Today and Friday the Global Engagement Center and Women and Gender Studies program are hosting the academic conference Human Trafficking: People, Places & Voices.
Shobha Gurung, women and gender studies professor, said the human trafficking conference is important because trafficking is a global women-related issue.
The keynote speaker Anuradha Koirala, a global advocate against human trafficking and CNN's 2010 Hero of the Year, speaks in the Hunter Conference Center today at 11:30 a.m.
On Friday in the Hunter Conference Center, 50-minute presentations on different aspects of human trafficking, including an interview with Koirala from 9-10 a.m. will take place.
"It is exciting to have her here given her real hard-core work with the issues of sex trafficking in Nepal," Gurung said.
Koirala founded Maiti Nepal, a foundation which has rescued over 12,000 women who'd been trafficked as sex slaves in India and Nepal.
Gurung said Koirala has valuable fieldwork experience. "She spends her days and nights with these people."
She said she has a lot of respect for Koirala's courage, strength and energy.
"These issues are not uplifting or comforting. It takes energy and passion to work with victims all the time, because they are stories full of torture and violations of human rights," Gurung said.
She said the conference is an exciting opportunity for students and the community, and she said she hopes it can lead to future opportunities for students.
"I'd like to engage our campus community with Nepal to have service-learning opportunities for students," she said.
Marla Herrera Inzurriaga, a junior psychology major from Stansbury Park, will present a global perspective of sex workers at the conference.
She said the conference is important because it raises awareness about a global and local issue.
"It is important for people to attend because they need to be more educated so we can start doing something about it," Inzurriaga said.
She and her classmates have been researching for weeks preparing for the conference, she said.
Inzurriaga said she is nervous for the presentation because she wants to be informative so people can comprehend and learn.
Meagan Hammon, a freshman graphic design major from St. George, will present on modern-day slavery in the United States at the conference.
Hammon said human trafficking is an important issue to discuss, even though it is something that most people don't want to discuss.
"Bringing awareness to an issue like this is important," she said. "It's real and it's happening."