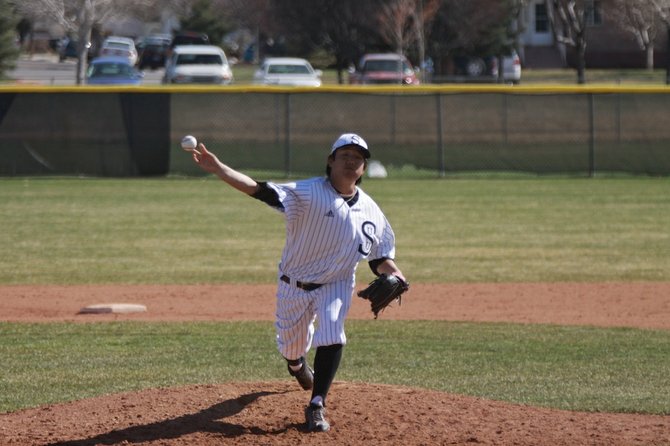 After dropping the opening game of the series, the SUU baseball team split with Oral Roberts in a doubleheader Friday afternoon.
The T-Birds were defeated in the first game but bounced back to hold ORU scoreless in game two.
The Golden Eagles got out of the gate early in their first trip to the plate. ORU scored three runs on a two-run RBI triple and an RBI single.
The T-Birds bounced back in the bottom of the second when infielder David Ricker hit a ground out RBI to bring in a run. In the same play, ORU attempted to get a double play by throwing the ball to first. The ball hit the base runner allowing outfielder Tariq Staton to reach home plate from second base.
ORU added another run in the third frame, but SUU leveled the score with two runs of its own in the bottom of the inning. The T-Bird runs were recorded on a ground out RBI by infielder Mitchell Kauweloa and a defensive error.
The Golden Eagles pulled away with four more runs over in the fourth and fifth innings. The T-Birds were unable to added any runs giving ORU the 8-4 victory.
SUU's Kelsey Outram took the loss in the mound giving up six walks and seven runs over four innings.
In the second game, T-Bird starter Justin Neubauer had a no hitter going up until the sixth inning before giving up a hit to the Golden Eagles.
The T-Birds got on the board early in the first inning when Justin Neuhart hit an RBI double into left field. SUU extended its lead with three more runs in the third.
Staton scored on an ORU defensive error and Kauweloa brought two baserunners in with a two-run RBI single.
SUU's final runs were recorded in the fifth and sixth innings of the game bringing the score to 6-0.
"Justin really set the tone in that second game," said interim head coach Clayton Carson in an SUU press release. "He got ahead in the count and was pitching for contact and let the defense play behind him. After we got the lead, I knew that he could hold them down."
Kauweloa led the T-Birds with three RBI, while Staton went 4-for-7 recording an RBI and two runs scored.
The T-Birds are home again this week as they host Indiana Purdue-Indianapolis in a four-game series starting Thursday at 3 p.m.