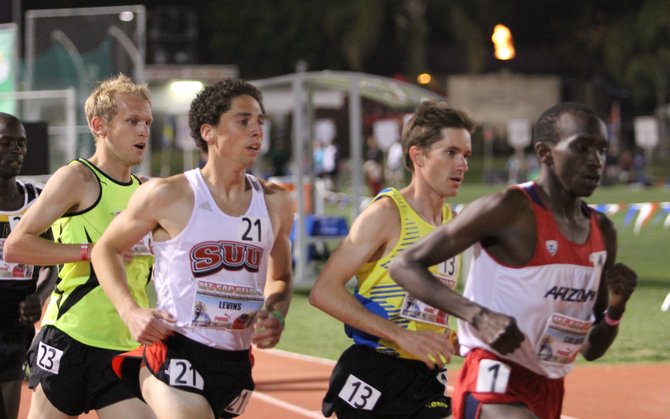 SUU distance runner Cameron Levins is on his way to qualifying for the 2012 Summer Olympics in London after running a 13:18.47 in the 5,000-meter run at the Mt. SAC Invitational in Walnut, Calif.
The time earned him a Canadian Olympic A+ Qualifier.
Levins' time beat the required 13:20 mark necessary for Canadian Olympic qualification by just over one and a half seconds. To do so, Levins had to maintain lap splits of at least 64 seconds.
"It felt better than any other race and I knew going into the final mile that I was going to make it," Levins said in a Sports Information press release. "Training has gone really well this past week but I never could have expected to achieve the Olympic standard this early in the season. It feels amazing."
Levins finished in first place in the event, defeating the defending national champion Lawi Lalang of Arizona after he finished the event in second place with a time of 13:18.88.
It is believed that Levins will be the first athlete to qualify for the Olympics while attending SUU.
Head track and field coach Eric Houle said he believes that Levins currently has the fastest time in America at the collegiate level. The fastest college time in the 5K coming into this weekend's meets was 13:31.51 by Arizona's Stephen Sambu
Houle said he was overwhelmed and extremely proud of Levins' accomplishment.
"It is the A standard in the Olympics for Canada, he will be at the Olympics this summer," he said. "Let me just tell you, the crowd here, was cheering for Cam. Absolutely amazing."
Houle said there were around 5,000 or so spectators in the crowd, all supporting Levins during the event.
Levins still has the Canadian Olympic trials June 28-30, but so far he is the only Canadian to hit the time necessary to qualify. Canada has three spots in the 5K for the London games.