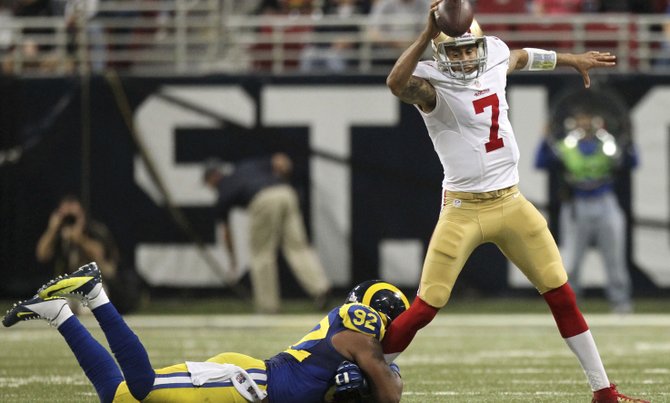 In the last few weeks the San Francisco 49ers have run into something that doesn't normally happen; a backup quarterback earned the starting role after performing well when the starter was out with an injury.
So many teams in the NFL have "franchise quarterbacks" which they build around so when they get hurt the backup is usually an inexperienced noob or an old veteran that may or may not have the right stuff to get the job done.
The 2011 Colts are a good example of what happens when a franchise quarterback gets injured and your whole organization falls apart.
This year, the Pittsburgh Steelers are on their third-string quarterback after Ben Roethlisberger was injured in a game against Kansas City and the backups have been unable to pull out a win in the last two weeks.
Jay Cutler of the Chicago Bears suffered a concussion and his backup Jason Campbell, an eight-year veteran who is not a stranger to starting, was out-performed by second-year quarterback Colin Kaepernick of the San Francisco 49ers in his first NFL start.
What happened?
On Nov. 11, San Francisco 49ers quarterback Alex Smith suffered a concussion during the team's first matchup against the St. Louis Rams. He kept the ball, ran to the left and instead of sliding, like a quarterback should, he turned his back to linebacker Jo-Lonn Dunbar who hit him hard in the back as he was going down.
Smith stayed in the game for the 12-play, 78-yard drive, which culminated with a 14-yard touchdown grab by wide receiver Michael Crabtree. While the defense held the Rams to a 3-and-out the 49ers decided to put in Kaepernick to replace Smith, who was showing signs of a concussion.
Before Smith got hurt he completed 7-of-8 passes for 72 yards and a touchdown, while Kaepernick finished the game completing 11-of-17 for 117 yards. The game continued into overtime and, for the first time since 2008, ended in a tie.
What's next?
Smith didn't get cleared to play before the 49ers were supposed to take the field against the Chicago Bears and Kaepernick got a chance to start for the first time in the NFL against an unforgiving defense.
With Cutler out, Campbell started against San Francisco and completed 14-of-22 of his passes for 107 yards, one touchdown and two interceptions while Kaepernick completed 16-of-23 for 243 yards and two touchdowns for a 32-7 victory over the Bears.
Kaepernick and the 49ers outplayed and shut down one of the best defenses in the league and it's because of that performance that Smith was benched, even after being cleared to play, against the New Orleans Saints the following week.

Kaepernick started against the Saints last week and completed 16-of-25 for 231 yards with two touchdowns (one rushing) and an interception. Granted, his second performance was not as good as the first, but he never got sacked and the defense returned two interceptions for touchdowns to aide in the 31-21 victory.
Numbers game
I have been a 49er fan my whole life and to be perfectly honest I have not been a fan of Alex Smith. That being said, I understand the struggles he faced during his first five years, which include five different offensive coordinators and a shoulder injury early in his career.
Before head coach Jim Harbaugh, Smith played in 54 games, completed 864-of-1,514 passes for 9,399 yards, 51 touchdowns, 53 interceptions and 28 fumbles. During those first five seasons, he had a completion percentage of 55.6, which isn't awful but it's not great either.
A lot of numbers, I know, but bear with me.
Since Harbaugh took Smith under his wing, Smith has completed 425-of-662 passes for 4,875 yards, 30 touchdowns, 10 interceptions and eight fumbles in 25 games before he was benched with a concussion. That is an average completion percentage of 65.7 under Harbaugh, which is an amazing turn around.
In 2011, Smith had his best professional season as he threw for over 3,000 yards for the first time and only threw five interceptions when he was averaging 10.6 per season prior to that. In the nine games this seasons he was on route for another great season as he had completed, an NFL best, 70 percent of his passes for 1,731 yards, 13 touchdowns and five interceptions.
Smith just happened to be fortunate enough to have a great backup quarterback who excelled in college and was eager to show what he could do when he was given the chance to start. Where it is fortunate to have a backup that can get the job done, it is unlucky for Smith who now has to watch from the bench.
Smith is no stranger to being on the bench in his career, but in the past the backups were never good enough to fully replace him and once their turn was over he came back with a vigor that kept him on the team.
There are two things I enjoy about Kaepernick that Smith really hasn't been able to do and that's his ability to accurately throw the ball down field and the elusiveness he shows in the pocket when he is about to be sacked. Smith can move, but Kaepernick seems to have a much better awareness of what is going on around him and is very quick when he needs to run it himself.
In his first two starts, Kaepernick averaged 9.9 yards per completion, while Smith averaged 6-yards per completion in his first five seasons and 7.5 yards under Harbaugh.
Is it a fair comparison given how many starts Smith has over Kaepernick? Probably not, so how about this:
In Smith's first two starts he completed 17-of-39 passes for 166 yards, an average of 4.5 yards per completion, and five interceptions, no touchdowns.
How about the fan controversy?
Since joining the team in 2005 Smith has been the focus of scrutiny when he performed badly and was never welcomed heartily back by the fans even if he did perform well. When it was announced that Harbaugh would be the new coach I remember reading many comments on various articles and websites that basically wanted the 49ers to cut Smith and move on.
The new regime selected Kaepernick in the 2011 draft, but Harbaugh was set on using Smith as his starting quarterback, and the team won 13-out of-16 regular season games in 2011 after a 6-10 season in 2010, beat the Saints in one of the most exciting divisional playoff games ever and made it to the NFC Championship game where they lost to the would-be Super Bowl Champions.
Was the success due to Smith alone? Not at all, but he did help. The powerful defense and the leg of David Akers aided in a lot of the teams wins. Smith was amazing in the playoff game against the Saints, as he orchestrated two touchdown drives in the final four minutes to beat New Orleans 36-32.
Fans praised Smith for that game and scrutinized a special team's player for the loss against the Giants in the NFC Championship game. After such a successful season Smith earned the praise of the fans, and even got the nickname "The Phoenix." But he is now watching from the sidelines as his second year backup is the starter.
Final thoughts
Smith has done well under Harbaugh and I am personally happy that my team has risen from the ashes to be considered a serious contender for the past two seasons. With that in mind I believe Kaepernick is the future of the team because he has the making of an elite quarterback that Smith has never, and will never have.
Following two winning performances, Kaepernick has taken over the starting role and started against the Rams on Sunday but since it was an afternoon game I didn't have the time to put the stats in this column.
Anthony Anderson is the Sports Editor at the University Journal. He can be reached at aanderson@suunews.com.