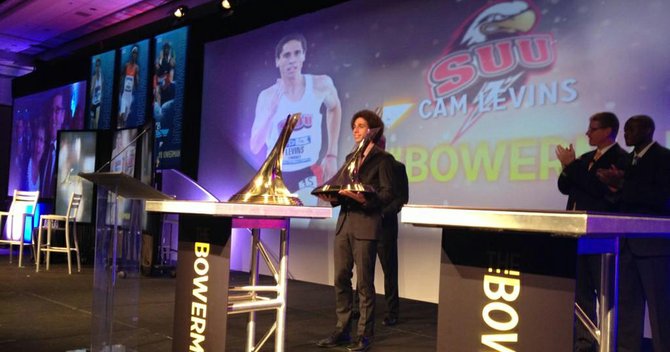 Former SUU track and field standout Cameron Levins received the Bill Bowerman Award as the top male NCAA track and field athlete of 2012 Wednesday night in Orlando, Fla., completing his collegiate athletics career in good fashion.
"I wasn't expecting this at all," Levins said, in his award speech. "I have a lot of people who I want to thank because I didn't get here on my own — I couldn't have gotten here on my own ... I had a long way to go from standing up here being an Olympian."
Levins, who won the 5,000-meter and 10,000-meter finals in the NCAA Track and Field National Championships in June and represented Canada in the 2012 London Olympics, graduated from SUU in May. He led the T-Bird men's track and field team to an 11th place overall finish in the NCAA National Championships.
Levins' two national titles are SUU's only athletic national titles in any sport.
SUU President Michael T. Benson and T-Bird track and field head coach Eric Houle joined in attendance of the event, which is college track and field's equivalent of the Heisman Award in college football.
"To make the trip all the way down here is amazing," Levins said, after thanking Benson. "He's a huge supporter of our program and beyond just me — the entire program — he's been a huge, huge supporter and I hope he continues that long after I'm gone."
Levins beat out Illinois's Andrew Riley and Tony McQuay of Florida for the award and became the first athlete from a mid-major school to win the Bowerman.
LSU's Kimberlyn Duncan won the female side of the Bowerman Award.
The Bowerman Award ceremony was streamed live on FloTrack.com and hosted by ESPN Sports Center anchor John Anderson.