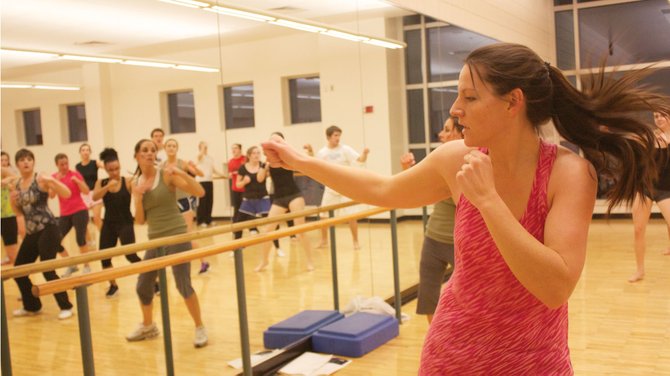 Video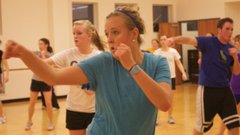 Free Aerobic and Zumba classes are being offered at the J.L. Sorenson P.E. building to motivate people to become healthy and fit.
Ken Nielson, coordinator of campus recreation, said the classes have always been free, but fliers were put up to encourage more people to be involved in fitness.
He said they've been offering aerobics classes for free for 15 years and this is their second year offering Zumba classes.
Andrea Taylor, aerobics and fitness instructor, said they also put up the fliers because the schedule changes every semester, and she said it's important to get the word out.
Kaili Valantine, a junior pre-nursing major from Monroe, has been teaching the Zumba classes on campus since November.
She said her classes are always packed, but getting the word out to get more people involved is always a good thing.
"Fitness is such a big thing and if students know it's free, they might be motivated to come out more," she said.
Photo Gallery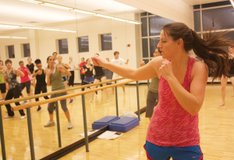 Nielson said the Zumba and aerobics classes have both been popular.
"Zumba has at least 50 or 60 students every time," he said. "Aerobics has a lot more classes and a lot of people come out for this too. I think they're both popular because they're free and also because they're fun."
Camille Leigh, a senior early childhood development major from Alamo, Nev., has been attending the Zumba class for a few weeks. She said the class has been packed every single time and she goes because it's a fun and popular class.
Kristen Stringham, a freshman biology major from Syracuse, said she has been involved in the aerobics classes and the Zumba class since last semester. She said she enjoys the classes.
"I want to be a dancer, and dancers have to be in good shape," Stringham said. "But I go as well because the classes are fun. I would encourage anyone to come out because there's nothing to lose."
Whitney Robison, a freshman pre-nursing major from Salem, has been going to the Zumba classes since November. She said she attended the classes after seeing a flier for it and has been going ever since.
"I would encourage anyone to come out and not worry what they look like," Robison said. "Everyone is focused on what they're doing and not on other people."
Valantine had advice for newcomers to Zumba as well.
"Just come have fun," she said. "Be patient and give it time because it'll end up catching on."
Taylor said there is a wide variety of classes to meet the needs of many different people.
She teaches eleven different classes, and said she loves what she does and hopes that even people new to exercise will come out and get involved.
"Even those that are new to exercise should come anyway," she said. "You can always adjust to your level. Don't worry about what level everyone else is on, just do what you can do."
Taylor said for regular updates on the schedule to go to suuaerobics.blogspot.com