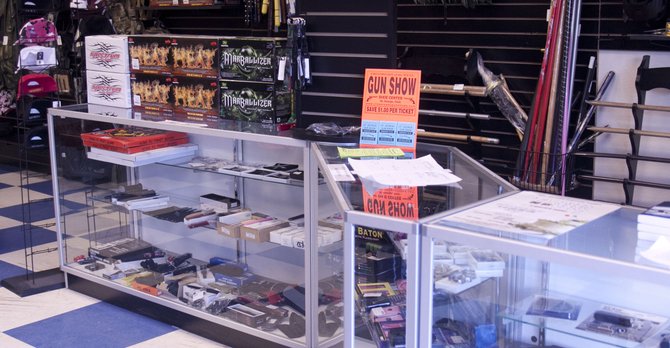 Document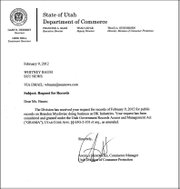 The owner of a Cedar City-based online business may be facing fines of $75,000 from the Utah Division of Consumer Protection for failing to fill online purchases.
Cedar City resident Brandon Mysliewiec is the owner of paracordmaster.com, formerly bkindustries.net, as well as other websites and the BK Industries store and paintball arena located in Cedar City. Mysliewiec faces a collection of fines from the UDCP for failing to fill orders placed through paracordmaster.com.
Jennifer Bolton, public information officer for UDCP, said Mysliewiec was scheduled for a hearing Wednesday to discuss the fines, but did not attend or contact UDCP to reschedule.
Mysliewiec said he was never informed of the hearing.
"If there was an actual court date filed and they're saying I missed it, they didn't do what they were supposed to legally do and provide me with the letter," he said.
Bolton said Mysliewiec was issued a citation totalling $75,000 on Jan. 19. According to the citation, he faces fines for deceptive acts or practices by a supplier, exclusions and limitations in advertisements, and failure to issue refunds within 30 days of receiving a valid request for reimbursement.
According to the public file on Mysliewiec's case, the citation was issued after 10 consumers filed official complaints with UDCP claiming they did not receive products ordered from paracordmaster.com within the specified shipping window, and that Mysliewiec did not issue refunds when requested.
Reports from the 10 consumers indicate they placed orders online with paracordmaster.com, were not informed of any items being out of stock and never received their purchased items, which should have been shipped within six weeks. The complaints address purchases made between July and November 2011.
There are nearly 5,000 customers waiting for product from paracordmasters.com, Mysliewiec said, but he is unable to fill the orders because of delays from suppliers; nor can he issue refunds because the payments customers made were used to order the products. The bulk of the orders were made at the end of November, he said.
Mysliewiec said customers are "shooting themselves in the foot" by complaining to UDCP.
"The more they complain the worse the situation gets with the state, and if the judge feels that it's just too big of a situation, then he'll just let the fines go through," he said. "If the fines go through, I bankrupt the website, which means the customers lose their money, the product, and it still doesn't affect me."
Mysliewiec's business is registered as a "doing business as" entity through the Utah Department of Commerce, meaning his personal assets and business assets are legally tied, according to the Merriam-Webster's Dictionary of Law. As of Friday, BK Industries is listed as "active" and in "good-standing" with the Utah Department of Commerce. The Better Business Bureau of Utah, however, has posted an alert for the business.
A separate investigation was also conducted by Cedar City police, but was closed because officers were unable to prove intent to commit fraud. Detective Sergeant JR Robinson said he has been receiving a high volume of calls from disgruntled customers who learned of the investigation through online message boards.
"We have received complaints, still receive complaints daily, of people who ordered product online," he said. "Their card or bank account has been charged for that product, and some of these people, now upwards of three months, still have not received their product or a refund."
Without being able to prove criminal intent, Robinson said all cases are being referred to UDCP.
"Everyone is calling and telling me the same thing, and it's not helping me prove intent, is the long and short of it," he said. "Something is not right there, whether that be poor business practices or something criminal. I haven't been able to show that it's criminal, so as far as the business practice part of it goes, consumer protection will deal with that end of it."
Following the rush of online purchases, Mysliwiec said he shut down paracordmasters.com and other websites in early December to try and get the situation under control. The BK Industries profile on amazon.com has also been taken down.
"Right now all our sites say 'down for construction,'" he said. "Until we get a handle on the other stuff, we're just eliminating all of them."
While the site's functionality has been disabled, the paracordmaster.com homepage banner still reads "all orders will be shipped within one business day."
Mysliwiec's site was up and running through December 13, 2011. According to his Facebook page, he was continuing with online business. On that day he posted, "ParacordMaster.com 100' Hanks of paracord for only $5.87 ALL orders ship out within 72 hours. All items in stock and ready to ship out."
Paracord is parachute cord, also known as 550 cord. Recently it has been sold as woven bracelets, belts, collars, leashes and key-chains.
In December 2011, a Facebook page titled "Paracord Master Frustrations" was created by an unhappy customer who placed an order with paracordmaster.com in July 2011 and still has not received their products. As of Sunday the page has 29 "Likes" from consumers who have had problems receiving orders from Mysliwiec's site.
Also in December, scambook.com, a website where online consumers can post and file claims about businesses in order to warn other customers, had an influx of consumers reporting "bad business" with Mysliwiec's site, paracordmasters.com. As of Sunday, the site has registered 37 individual complaints, totalling a $2,079 loss. The most recent complaint on scambook.com was made Friday.
Mysliwiec said the delays are the result of a wide-spread shortage of paracord as suppliers attempt to meet increasing demand.
"It's just the demand for (paracord)," he said. "We didn't increase our advertising or anything and we went from roughly 15 people a day coming to our website to over 500 the very next day, and then by the end of that month we were up to about 5,000 people a day coming to the site, and we didn't change a single thing. Just demand itself for paracord increased nationwide so the manufacturers are overrun with orders, it's causing all kinds of problems."
An employee at Desert Rat, an outdoor supply store located in St.George, said he has seen an increased demand for paracord, but not a shortage. While some colors of paracord have been back ordered because of the product's recent surge in popularity, the store usually has the back ordered colors within a few weeks, he said.
"We have about 30 colors we just received, in stock right now," he said. "We got the order in about a week, from a new company back East. The couple of colors that we have on back order we're expecting to get here in the next week."
While Mysliewiec said he doesn't know what the fate of his online business will be, he anticipates his Cedar City store will continue uninterrupted. The store — which has some military clothing, survival supplies, weapons and games — hosts weekly tournaments for games like Magic: The Gathering, and has become a retreat for some, including SUU students.
"The store will be fine, it will just bankrupt the website," he said. "It's different entities, different companies."
As recently as Friday, Mysliwiec has registered for new URLs under the business name BKE Corp and BK Eternity.
Mysliwiec, who has been in business for 10 years, is no stranger to controversy from business deals gone wrong.
According to an archived version of his webpage, bkindustries.net, Mysliwiec started his business out of his car in 2002. In the years following, he branched out and started a number of online retail websites including the flagship site, bkindustries.net, along with wholesalemartialarts.net, wholesalemilitary.net, bkindustries.org, deals4dirt.com and paracordmasters.com, among others. He also sold items on amazon.com and provided links to his sites on deals.woot.com, where his first business problems began.
Deals.woot is an online site where members, known as "wooters," can inform each other of online deals. Through deals.woot, Mysliwiec posted information for items on his sites, specifically something he called "Mystery Boxes" in January 2010. He specified the box contained "at least a suggested retail value of $9.99 or more, with many (boxes) with $99.99 worth of items."
Mysliwiec said many wooters purchased these items. So many, in fact, that when some customers' payments were tied up because of problems with a third-party online money management system called "GPAL," he no longer had enough money to ship all the orders.
After waiting much longer than expected for their boxes to arrive, wooters began contacting Mysliwiec. He informed the upset consumers through email that "90 percent of the mystery boxes have been shipped … although it may take a little longer we will not only be shipping your item but will be issuing a refund to you as well." He also asked customers not to request a charge back through their banks, but to ask for refunds through GPAL.
GPAL's website and phone number are no longer functioning, and according to online forums, GPAL, following several problems with other online-based companies, is no longer in business .
"We had about 800 customers who said they didn't want to try to get money back through their bank, they wanted a box even if it took years," Mysliwiec said. "200 customers (are) left," he said "They're still waiting."
Frustrated wooters continued posting on the deals.woot forum about obtaining refunds or receiving their missing purchases. The last comment on the BK Industries board on deals.woot.com was posted in December, stating the customer purchased a box in May 2010 and hadn't received his mystery box order.
In October, Mysliwiec tried to post information for paracordmaster.com on deals.woot but the links were taken down by moderators. Wooters alerted moderators about Mysliwiec's postings via forums on the site. Moderators responded by thanking wooters for the information and explained they had removed the links.