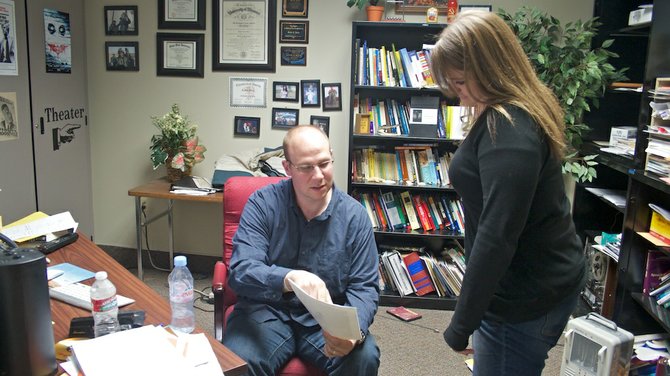 The new faces of freshmen joining the Communication Department will be greeted with new names of the emphases offered for their field of study.
Currently under the communication major there are five emphases; communication studies, advertising, public relations, broadcasting and journalism.
According to head of the Communication Department Art Challis, next fall advertising and public relations will be combined to form strategic communication while broadcasting and journalism will be combined into media studies.
Challis said the communication department has been discussing the changes for about three years as a way to make the programs completely marketable. He said the changes will make the areas of study simpler with three tracks rather than five, allowing students to graduate easier. Students still have the option to choose a composite major of 62 hours between the three tracks.

The new programs have been approved with the exception of the board of regents which Challis said should be finalized this month so the changes can be implemented in the fall. Students currently in the program won't be affected.
Challis said many companies now are combining advertising and public relations and hiring those who know how to do both.
"That's one of the reasons for (the changes), is to keep pace with what we need to be doing to make the jobs marketable for those who are in that study area," he said.
He said for media studies, "the edge" in addition to the hands-on experience SUU students receive are writing skills.
"We have good hands-on programs and we have labs but the writing is what's important and that will get you jobs," he said.
He said the changes should also help to keep students in sequence and well prepared to take their capstone course.
Additional changes will be the consolidating of some classes.
For example, Introduction to Public Relations & Advertising will be offered in place of each emphasis having its own introductory course. Writing classes will be adjusted as well, with a Media Writing course covering journalism, television and online writing.
Students with a communication studies emphasis will take Communication Theory as their capstone while the new strategic communication and media studies will take Mass Media Theories and Effects for their capstone.
Brant Parker, a junior communication major from St. George has a communication studies emphasis and said the combinations are interesting.
"I see that they go together and can be combined together in an actual job," he said. "It'd be good to know both of those things when you're going into a job in public relations or in advertising because they combine both aspects for the company."
Parker said the changes might make students less focused by not having one specific emphasis, but thinks overall it is a good thing.
"Once they graduate they'll have a broader understanding of how to use it in the work force which is really why we're here," he said.
Delaina Lozano, a senior communication major from Henderson, Nev., has an emphasis in broadcasting and thinks students should be able to choose one emphasis rather than being offered two.
"I chose broadcasting for my major not journalism," she said. "I prefer one not the other and I think it should stay that way."
Lozano said the changes could hurt the department if students aren't able to choose the emphasis they desire.
"They could struggle with one (emphasis) or the other and that will make it harder on them," she said.
She said the incoming freshman that will be affected by the changes would be "shocked if they knew that the programs were before."