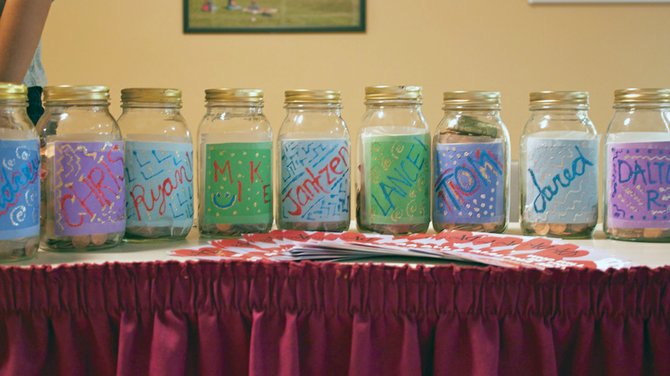 Video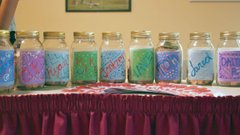 This year's Mr. Heartthrob competition will cause not only women's hearts in the audience to pump but will also help women who suffer from heart disease.
Jared Empey, Jantzen Bruch, Lance Lowry, Chris Whiteside, Dalton Burr, Tom Hanratty, Dallan Wright, Dalton Ryals, Andrew Briggs, Ryan Horlacher and Mike Harris will be competing in the competition tonight in the Sterling R. Church Auditorium at 7 p.m.
Rachel Fullwood, a junior communication major from Kaysville, is the director of publicity for Alpha Phi.
Fullwood said the proceeds of the Mr. Heartthrob competition go to the Alpha Phi Foundation, which is a service organization of Alpha Phi International. The philanthropy of Alpha Phi International is WomenHeart, a national coalition for women with heart disease dedicated to promoting women's heart health.
Fullwood said WomenHeart was chosen because heart disease is the no. 1 killer of women in the United States.
She said Mr. Heartthrob is a male pageant that began with their philanthropy in mind and is an event done by most Alpha Phi chapters throughout the nation.
In the past, Mr. Heartthrob has been just the pageant, but Fullwood said "to get the whole campus more involved and to have the guys get more excited about it we decided to make it a week-long event."
The first day of competition was a hula hoop physical challenge where they had to hula hoop while adding additional hoops. Hanratty took first, Wright was second and Bruch came in third.
Day two was penny wars where each competitor had a jar to see who could raise the most money. Ryals took first in this preliminary event with Whiteside coming in second and Lowry in third. Altogether the competitors raised $268.08.

The competitors competed in a bread competition Wednesday where a member of Alpha Phi wore a bread necklace and the contestant had to tell them an Alpha Phi fact, history or do an act of chivalry to earn the bread. The bread is worth 10 points.
At the pageant, Fullwood said the contestants will perform a talent, answer questions about Alpha Phi, wear Alpha Phi clothing and perform a dance.
"They're all been really amazing and have gotten very competitive," she said.
Dallan Wright said this year's competition is "a pretty tough race."
"Lance Lowry is a big deal, I have to go up against him," he said. "It puts a lot of weight on my shoulders."
Wright said he has friends in Alpha Phi and liked the cause so he was happy to help and he didn't mind doing the competition.
"The girls have been great and it's been a lot of fun to work towards this," he said.
Wright said the thing that will set him apart from the other competitors is his "ability to win over a crowd."
Hanratty said Mr. Heartthrob is going to be competitive but "it's all for a good cause and in good fun."

Hanratty was asked to participate and said he was excited to help and support Alpha Phi's philanthropy work.
His game plan for the competition is to have fun and try to raise the most money.
"At the end of it, it's not really about who wins but about a fun way to raise money," he said.
Hanratty said his best asset is that he's "in it to win it." He said he has a lot of support and has been working hard on the events leading up to the competition.
Before penny wars Hanratty was leading the pack.
"I brought in a lot of pennies but I think everyone gained up against me to knock me down (out of first place) and it worked," he said.
Tickets are $3 with valid I.D. and $5 without.