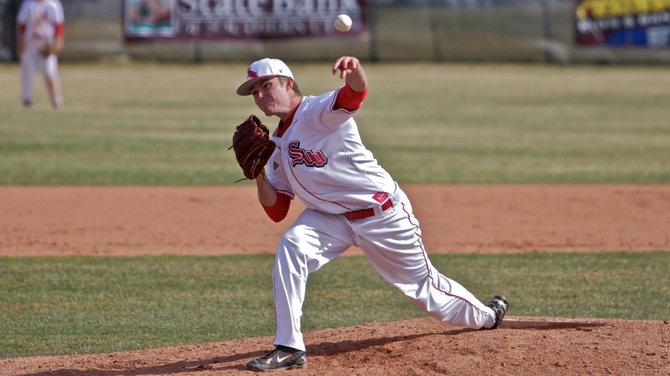 The SUU baseball team was swept by Utah Valley in a three-game series losing the final game 15-2 Saturday.
The Wolverines have a perfect 6-0 record against the T-Birds this season and improved to 12-11 on the season. SUU dropped to 6-20 with the loss.
UVU got things started with two runs in the first inning. Austin Heaps and Kai Hatch both drove in a run for the Wolverines.
Two more runs were added by UVU to lengthen its lead in the next two innings. In the fourth frame, Goose Kallunki drove a pitch over the left field wall for a three-run home run to go up 7-0.
The T-Birds were abe to get two runs back in the fifth. Infielder Kevin Kline had a lead off double and reached home plate when David Headley hit an RBI single. After Headley stole second, Micah Keeno brought him around with an RBI double to make the score 7-2.
UVU extended its lead with eight more runs in the seventh inning. Seven different Wolverines drove in runs to bring the final count to 15-2.
SUU starter Justin Neubauer gave up seven runs on 14 hits in six innings to drop his record to 3-2 on the year. UVU pitcher Adam Gunn picked up the win after allowing two runs in five frames of work and striking out six batters.
Keeno led the T-Birds going 2-for-3 with an RBI.
"We are going to look to make a couple of changes, I plan on calling pitches from the dugout next week," head coach Dave Eldredge said in an SUU press release. "I hope that we can learn from our mistakes and look forward to conference play which basically gives us a chance to start a new season."
The T-Birds return home this week as they host UNLV in a single game Tuesday at 3 p.m.