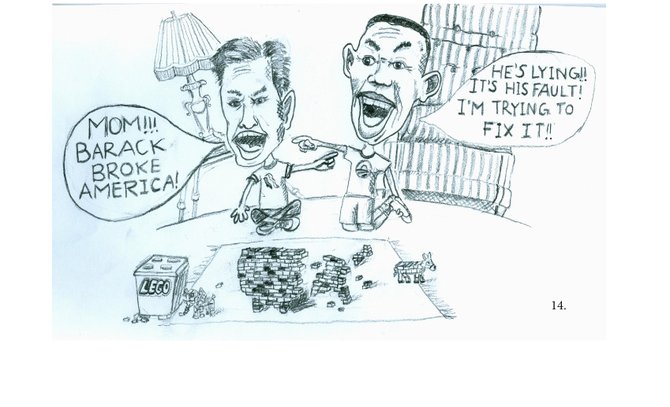 Cedar City, Utah — The Michael O. Leavitt Center for Politics announced the winners of its second annual political cartoon contest Monday, after narrowing down over 20 entries to the top three winners.

Entries were judged by a panel of five judges who each selected their favorites through each round of the competition.
Skye Rosdahl, a senior art education major from Smithfield, was awarded first place and received a $25 gift card for her entry. Her husband, Dillon Rosdahl a junior English major from San Francisco and the student director for the Leavitt Center, expressed his excitement for both the contest and Skye's victory.
"We try to involve students from all areas of the school," Dillon Rosdahl said. "It was a way to include students with all majors in politics."
Dillon Rosdahl also said that the Leavitt Center would post the finalists' cartoons onto the Center's website, Facebook and Twitter.
Grayson Moulton, a senior theatre arts major and a member of the Leavitt Center Executive Council, said the timing of the contest could not have been better, because of the surrounding Presidential Election.
"It was great to see entries from a variety of students trying to define the election in their own terms," Moulton said.
Leavitt Center Director Eric Kirby said that because of the success of the political cartoon contest, the Center may expand the contest into both fall and spring semesters.
"It is a way to encourage political involvement and for students to realize that there are some funny things in politics — it's not all serious," Kirby said.
Kirby also explained the universality of politics plays a role in the lives of students regardless of major, interest or course of study.
"Students need to become involved in politics so that they understand how to navigate through their chosen field of study," Kirby said.