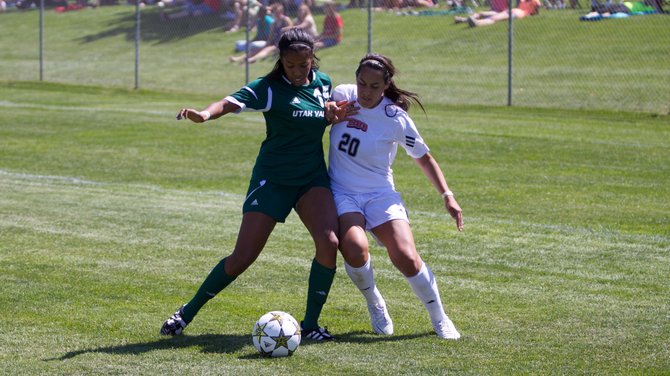 Video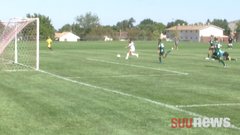 The SUU soccer team snapped a four match losing streak, but could not pick up its elusive first win of the season as the T-Birds played to a 2-2 draw with Utah Valley Saturday.
The T-Birds came out strong scoring the first goal of the match in the 23rd minute when forward Sabrina Hernandez outplayed UVU's goalkeeper Lauren Sack on a beautifully placed passed by Savannah Spere. Hernandez spun around Sack and was able to tap the ball into the back of the net.
SUU forward Stacey Brinkman then found the back of the net just 17 seconds later with a rocket of a shot off the crossbar to put SUU up 2-0.
A mental lapse by SUU in the 38th minute gave the Wolverines their first goal as the T-Birds misplayed the ball and it ended up in the back of their own net.
"It was just a missed clearance," head coach Becky Hogan said. "I think you see it in soccer all the time from the National team to youth soccer. Clearances are such a problem for people, there (Clearances) are one of the toughest things in soccer."

After SUU's own goal, both teams went scoreless until the 68th minute when UVU forward Regan Benson found that back of the net, off a rebound on shot by teammate Lexi Dunn that T-Bird goalkeeper Charly Booth could not corral.
The game remained scoreless but SUU was the aggressor through the remainder of the second half and the two overtimes. The T-Birds outshot the Wolverines 6-1 during the overtime period and managed to win to corner kicks, but were unable to find the back of the net.
Forward Madison Wood had the best look of the overtime periods, just missing the game-winning goal as her shot went wide right with about 20 seconds left in the game.
Both Wood and Hogan said they thought the shot was going in after it left Wood's foot.
Hernandez pick up a yellow card in the 88th minute of play after a brief scuffle with a UVU defender.
Defender Andrea Albrecht was helped off the field after injuring her ankle in the final minutes of the game.
"She's a tough kid," Hogan said. "For her to stay down is a little bit disconcerting, but will have her checked out and are training staff do a good job so will see how it goes (for next week's games)."
The T-Birds were once again outshot in the match 26-16 and 10-6 on goal.
The T-Birds return to the pitch for a pair of games next week beginning Friday against Western State College of Colorado, followed by an alumni game exhibition Saturday.