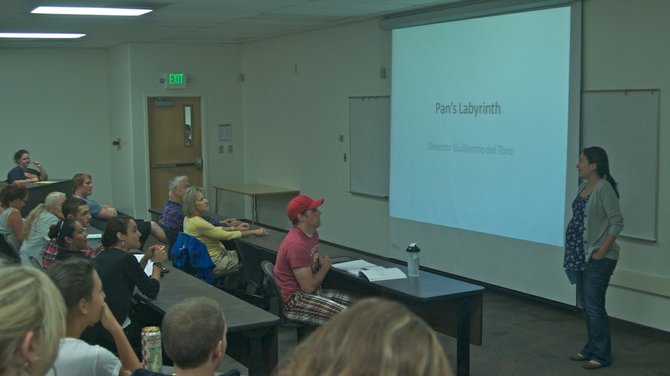 The second film of the Latin American and Spanish Film Series, Pan's Labyrinth, was shown Tuesday night in the General Classroom building.
The film centered on a small girl using a fantasy world as an escape from her life in fascist Spain.
The movie tells the story of the young girl while simultaneously showing the war between a small Spanish army and a band of renegade rebels.
Alyssa Christensen, who attended the movie Tuesday evening, said she liked the movie, but thought it was bizarre.
"I just liked ... the feel of another culture," she said.
When asked whether she would recommend it to others, she said, "It was a little strange. You'd have have to watch it and see for yourself if you like it."
Iliana Portaro, lecturer of Spanish, and Jim Gustafson, assistant professor of Spanish, put together the Film Series, and both said the film was one of their top picks.
"When we were planning the theme for this semester, we were considering recent classics... films that maybe students hadn't seen and that had some kind of impact," Portaro said.
Gustafson also said he felt Pan's Labyrinth was a good choice for the film festival.
"It was certainly my first choice," Gustafson said. "I think it really touches all of the areas that we wanted to for the film festival."
Portaro said she felt the film was a good choice for the film festival because it made viewers think about the outcome of the film.
"I think that's a... reason why we chose it," she said. "It gives you food for thought and it's not an easy film and so it gives you something to think about at the end."
Gustafson agreed.
"You have to sort of decide," he said. "This fantasy world, is it real or is she just creating the whole thing?"
Both teachers agreed the originality of the film made it great.
"It's something that you really have to see in order to describe the movie, and even then it's sort of a challenge," Portaro said.
When speaking about the violence in the film, Gustafson said, "It really reflects real life. It was... wartime. You have to have that in there."
Frida, next week's film, is a biography centering on the life of Mexican artist, Frida Kahlo.
The film, starring Salma Hayek as Frida and Alfred Molina as her husband, fellow artist Diego Rivera, won two Oscars and four Oscar nominations, including a nomination for Best Actress in a Leading Role.
Portaro suggests students come to see the movie.
"They're true masterpieces, I think, of Latin American and Spanish film," she said, "So it's a great opportunity to come and enjoy a cultural experience and learn something new and be exposed to different things and know that what you are watching is really high-quality art."
The film will be shown in General Classroom building, room 107 at 6 p.m.