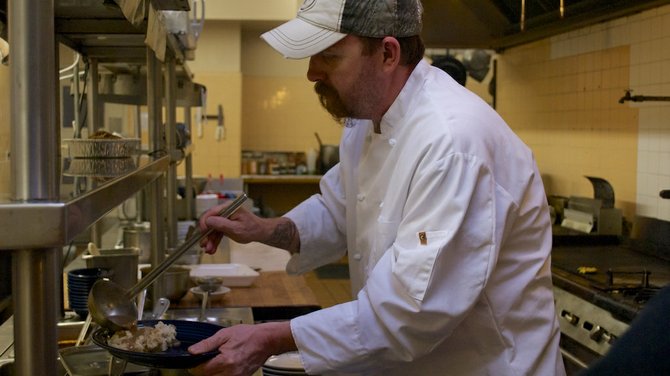 A few new restaurants have cropped up in Cedar City in the last month, one of which is The Spaghetti Western on Main Street, located in the building that once was Sullivan's Cafe.
John Carson, the restaurant's owner, said The Spaghetti Western, which opened on March 21, is a steakhouse with an Italian flare.
The restaurant got its name because Carson grew up watching spaghetti westerns, which are old western movies filmed in Italy, and Carson had always wanted to open a pasta restaurant.
"I've lived here about 21 years, and I've come to realize why there is not a pasta place in Cedar," Carson said. "We are a bunch of rednecks, and we love steak."
Carson said he decided to keep the name and keep the pasta on the menu, but made the restaurant mainly a steak house.
All of the food is homemade, and all the steaks are cut fresh daily by Carson himself, he said.
"For us, it's about bringing something unique to the area," Carson said. "There are places to get a steak in town, but there is nobody that specializes in steak, and we do." Carson has what he claims to be "the best steak cook in the Southern Utah."
Tony Turner, kitchen manager for The Spaghetti Western, said he has cooked for The Majestic View in Zion, The Anasazi Grill, The Painted Pony, and been kitchen manager for Outback Steakhouse.
"If you go somewhere else, you get Montreal Seasoning nine times out of 10," Turner said. "We have our own blend of 13 spices, one of which is proprietary to us."
All of the recipes The Spaghetti Western uses are handwritten and most are handed down from generation to generation, Turner said.
Carter said one of the recipes, his beef stroganoff, was his great-grandmother's recipe, which she brought over from Germany.
"All my recipes are under lock and key," he said. "Everybody signs a 'non-compete, non-disclosure,' not because we want to be super-secret, but because it's taken 21 years to get this together."
One of his signature items of which he is particularly proud, Carter said, is the 'rattlesnake eggs,' which is a deseeded jalapeno stuffed with cream cheese and smoked brisket, then rolled in egg, bread crumbs and jalapeno bacon.
Brooklyn Shotwell, a Cedar City resident, said she eats at The Spaghetti Western often and recently placed an order for them to cater a corporate meeting.
Continued from print page 7
"I am a big fan of steak and it's kind of the only thing I get anymore," Shotwell said. "Spaghetti Western's steak is different from anything I've tasted before and it's really good."
TiAnna Carson, wife of the owner, said one of her favorite things on the menu is the 'Johnny Cakes,' a breakfast item like a pancake.
"They are sweet because they are made from a cake batter," TiAnna said. "They are not just regular pancakes."
Carson said all the ingredients used in his restaurant are bought locally, including bread which is brought in daily from a local bakery, spices from a local vendor and meat from local butchers.
"We don't want to be a flash in the pan like other restaurants that come to Cedar and open for six months then disappear," he said. "We want to be known."
TiAnna said she and her husband have been preparing to open Spaghetti Western for 20 years, perfecting recipes and finding the right people to bring on board.
"Once we finally got all the funding together and got a building, it just snowballed and we were able to get it open," she said.
Carter said he and his wife put their life savings into the restaurant and put up the majority of the money themselves.
In the middle of the project, Carson said his house burned down to the ground and he and his wife lost everything.
"We watched the community rally around us and help get us back on our feet," he said. "We never lost hope and we never lost faith; we just kept going forward."
Carter has plans to open a store inside the restaurant where he will sell his secret spice, as well as art from a local artist.
"Times are hard but we have fight in us, and we will make this work," he said. "This is just who I am and what I do."