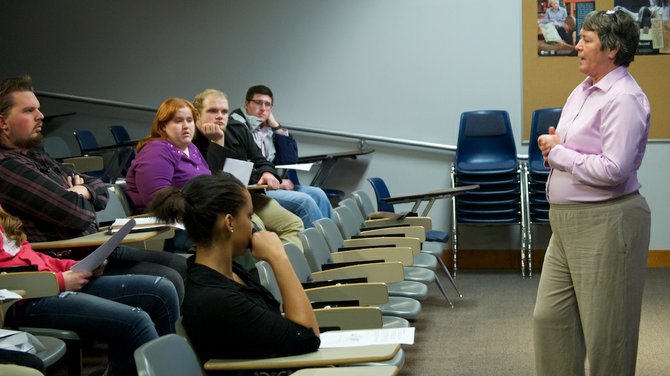 Sarah Solberg, a former employee of the United States Foreign Service and the diplomatic resident for the Global Engagement Center, spoke about applying and working for the Foreign Service at a MAD lecture Wednesday evening.
Solberg recently retired; she worked in the management field for foreign service for 22 years.
The Foreign Service is a branch of the government which handles various political and economical issues worldwide.
Solberg said she has worked in many countries around the world, including the United Kingdom, Norway, Romania, Iceland, Czechoslovakia, Macedonia, the Netherlands and the Bahamas.
Solberg gave students tips on how to serve the United States in a unique way.
Emily Holmes, vice president of the Honors program, planned the lecture.
"Sarah is a very nice and enthusiastic. I would love to travel and help the U.S. in a safer way," she said.
Solberg said working for Foreign Service includes helping the government, representing the United States, connecting state departments with other world leaders and also communicating for the country.
In order to become a member of the Foreign Service staff, one must take a written exam (FSOT), and after passing it, take an oral exam, Solberg said.
To be eligible to take the exam, which is free, the person must be at least 21 years old and a citizen of the United States, Solberg said.
During the lecture, Solberg said she has a study guide that students can use to study for the test. She said if students are interested, they could ask for the guide at the Global Engagement Center.
If they pass the examinations, applicants can attend the Foreign Student Institute in Virginia.
Solberg explained how the Institute works and how long one usually studies there.
She said people learn various jobs, assignments and languages, and that the Institute has a fake jail so students can practice what to do if one were stuck in a sticky situation and put in jail.
Solberg said Foreign Service employees are either "officers" or "specialists."
There are five categories that officers can fall under: consular, political, economic, public diplomacy and management, Solberg said.
Specialists fall under eight categories: administration, construction engineering, facility management, information technology, international information and English language programs, medical and health, office management and security.
There are also more categories that are comprised of 22 worldwide positions.
Solberg explained that specialist candidates are not required to take the FSOT, although they are required to demonstrate personal competency in the specialty.
When finished with attending the Foreign Student Institute, graduates are assigned to specific countries.
Solberg said they call this "Flag Day," and after this they are required to live in their assigned country for six months to four years.
Being a part of the Foreign Service is similar to being in an "exclusive club," she said.
People are able to serve America and do something for the U.S. in a more exclusive and interactive way, she said.
Justin Casciere, a senior sociology major from Canal Fulton, Ohio, said he enjoyed the lecture.
"It was good because I am interested in the field and I found it helpful to hear from her own experiences," he said.
Solberg said she is willing to help any future Foreign Service career candidates.
She can be reached at sarahsolberg@suu.edu, 435-586-1916, or at the Global Engagement Center.