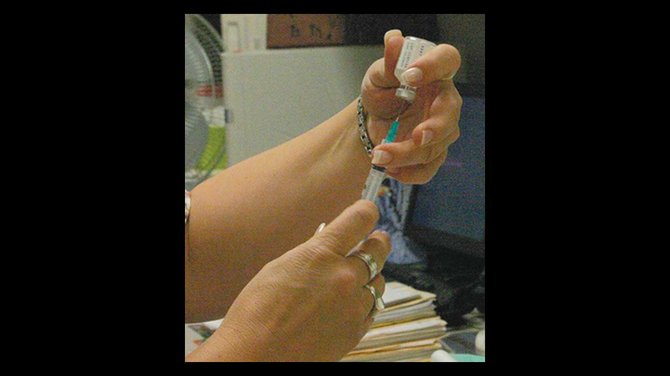 This year's flu season could be one of the worst in years, Health Department representatives said, with at least four confirmed Utah deaths and shortages of flu vaccines all over the country.
David Heaton, a public information officer for the Southwest Utah Public Health Department, said this year's flu season started earlier and has been more severe than the last couple years.
"This could end up being the worst flu season we've had in a few years, or even up to a decade," he said. "The number of people getting the flu, and the severity, is high." Heaton said he recommends getting a flu vaccine.

Stacy Mortensen, a pharmacy technician at Lin's, said their pharmacy ran out of the flu shot vaccine a little over a week ago. Scott Monroe, the communications manager at Valley View Medical Center, said all the family clinics at the hospital also ran out of the vaccine about two weeks ago.
Bob Tingey, Cedar Ridge family medicine administrator, said his clinic has been out of the flu shot for a couple weeks as well.
"Last year we had a surplus," Tingey said. "This year we bought more than we did last year and we still ran out."
When asked about why most places in town were out of the flu shot, Heaton said more people are hearing about the flu this year.
"People hear about the health emergency in Boston and the severity of the flu all over the country and they come get vaccinated," he said.
The Health Department in Cedar City stated there have been fewer than five deaths and a total of 233 hospitalizations this year as a direct result of the flu in Utah. That number is measured weekly and was most recently calculated on Jan. 5.
David Heaton said the way the state measures the number of flu-related deaths sometimes does not reflect the true number of deaths.
"A person has to have been tested for the influenza virus, hospitalized and then died from influenza to be counted as a flu-related death," Heaton said.


Vanda Jones, a teacher at Utah School for the Deaf and Blind, comes to Cedar City once a week to visit schools here. She said in speaking with the teachers at the local preschool, she heard about five flu-related deaths in Cedar City alone.
"One woman was about 45 and had the flu for about a week," Jones said. "She went to sleep and the next morning her 9-year-old son found her dead."
Brandon Petty, 46, of Cedar City, died on Jan 4. of flu-related complications at Dixie Regional Medical Center in St. George.
Darren Brown, Petty's brother-in-law, said his death came as a surprise.
"He was normally as healthy as an ox," Brown said.
Petty had been sick with the flu for about a week when he collapsed at his desk and co- workers took him to the hospital, Brown said.
Immediately upon arriving at Valley View Medical Center, Petty was transferred to St. George.

"He died of kidney failure brought on by the flu," Brown said. "First he had the flu, and then he got pneumonia and that's when we took him to the hospital. He died within three days of that."
Brown said his brother-in-law waited too long to seek medical attention.
Monroe said there are more cases of influenza showing up in hospitals this year than in recent years. There are a few things to consider when deciding when to seek medical attention.
"If you are having difficulty breathing, pain in your chest or persistent vomiting, go to the ER," Monroe said.


Tom Frieden of the Center for Disease Control in Atlanta, said in a press interview on Friday that the effectiveness of this year's vaccine is 62 percent.
"That means that if you got vaccinated, you were about 60 percent less likely to get the flu that required you to go to your doctor," he said in the press interview.
The typical range of effectiveness is anywhere from 50 to 75 percent, so this year is well within the normal range, he added in the CDC press release.
The CDC website provides information about the influenza vaccine. It states that every year, the vaccine provided to the public provides immunization against three specific strains of flu.
Heaton said that this year, there are anywhere from 20 to 40 strains of flu in Utah. However, he still recommends people get the vaccine.
"Sixty-two percent is good enough for me and my family," Heaton said.
The Health Department is getting a new shipment of flu vaccines this week, he said.
Deborah Heath, SUU alumna and nurse at the Paiute Clinic, said she has about 50 doses of the vaccine left. There are also flu shots available at Walgreens.
The most important thing to know is if people get sick, they need to stay home, Heaton said.
"Sometimes we feel like we are being heroic if we 'toughen up,' but in fact we are just exposing other people," he said. "People who are elderly, very young or have health problems have a high risk of complications if they get sick."