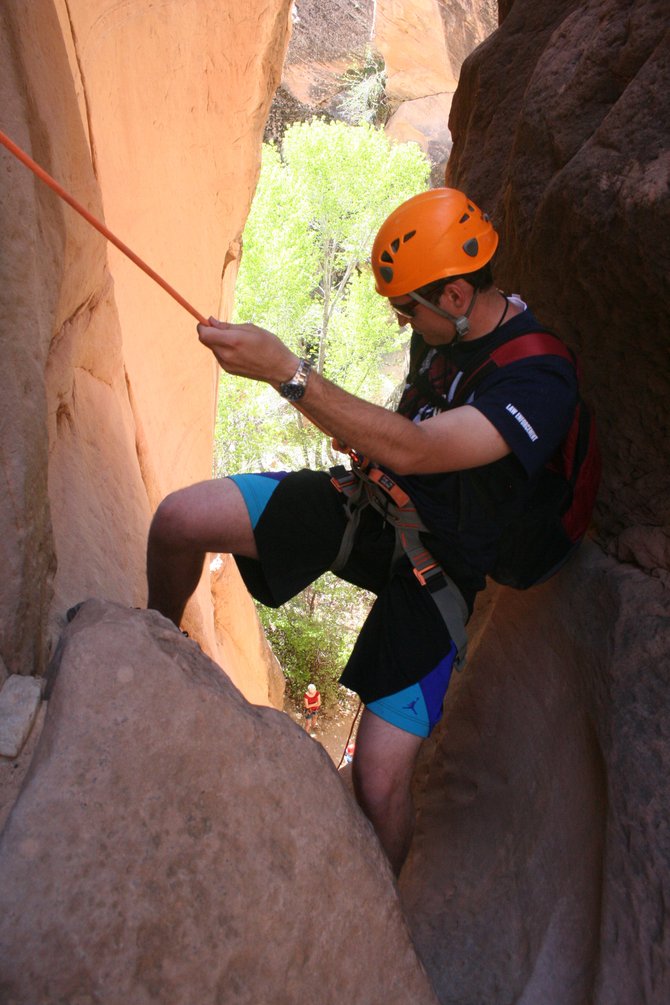 Photo Gallery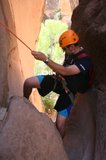 A group of seven SUU students took a trip through the narrows and down the cliffs of Yankee Doodle Canyon on Saturday as a part of the SUU Outdoor Summer Kickoff.
The group, led by University Journal Outside Editor Keith Howells, left campus at 9 a.m. and made it to Yankee Doodle, even after getting a flat tire.
After changing the tire and gearing up in proper footwear and helmets, the group listened as Howells gave a short safety-briefing before they hiked 50 yards to the first of two cliffs they would rappel down that day.
Brianna Wolfe, a senior marketing major from Springville, said it was her first time rappelling with a harness, but not her first time using a rope to get down a cliff.
Wolfe said she and her fiance, who writes a blog about southern Utah hiking, ran into a tight spot a couple of months ago while they were hiking.
"We were hiking in Cathedral Gorge and found this random rope we decided to trust, and that was pretty scary," she said. "This time was more fun than scary because I knew I was harnessed and I wasn't going to die."
Brandon Jensen, a senior outdoor recreation in parks and tourism major from Gunnison with a wilderness first responder certification, went along with the group in case anyone hurt themselves during the rappel or the climb down the canyon.
"(The certification) is basically on par with an EMT certification," Jensen said. "Luckily, I've never had to use it on one of these trips except for little cuts or blisters or sprained ankles."
Jensen said he has spent a lot of time canyoneering and enjoys being outdoors.
"I go canyoneering when I can," he said. "I am thinking of taking my degree in a medical direction and becoming a part of search and rescue."
After the group completed their second rappel, which was longer than the first, the rest of the hike consisted mostly of shimmying down cracks and climbing sandstone walls, Jensen said.
Howells said canyoneering is probably the best way to see the outdoors, but it is also "the most awkward way to get through a canyon," because much of the time is spent "stemming."
Stemming is a process where the hiker presses their back against one side of the narrow canyon and braces their feet against the other while suspended over a drop, Howells said. The hiker scoots along the narrow canyon until they get close enough to the ground to jump without injury, he said.
"It's a great way to keep from getting wet if there is water in the canyon," Howells said.

There are some places where, water or not, stemming is the only way to get down a drop off, unless jumping 10 to 20 feet is appealing, he said.
Shortly after noon, the group took a lunch break, where they made a tiny friend, one of the canyon-dwelling caterpillars.
Brittney Worthen, a senior outdoor recreation in parks and tourism major from Midvale, said she gave the caterpillar part of her apple, which he seemed to enjoy almost too much.
"I've never seen a caterpillar so happy in all my life," Worthen said.
After eating the apple, the caterpillar moved at super-speed, likely hopped up on all the sugar since it was only used to eating leaves, she said.
"And little did I know, it had diabetes ..." she joked.
Worthen said she takes every opportunity she can to get outdoors and go canyoneering or hiking and is even planning to start a veteran's outdoor recreation program at SUU since she is a veteran.
Anyone interested in going on hikes or other outdoor activities can find sign-up sheets for many activities at the Harry Reid Outdoor Engagement Center. Students can also rent equipment for most outdoor activities at SUU Outdoors in the Sharwan Smith Center.