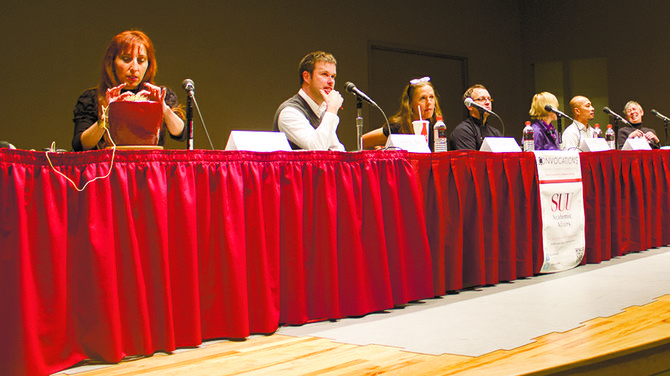 The Convocation Tuesday was divided in two parts: a panel discussion titled "Merce Cunningham and the Avant Garde" led by Ray Grant, academic program officer and director of Convocations, and a dance concert featuring the Repertory Dance Theatre from Salt Lake City.
"Avant-garde" comes from the French "advance" or "vangard" and is referred to here in the context of the arts movement of the 20th century, which encouraged untraditional methods of creating and interpreting art.
Merce Cunningham was a choreographer who was said to have been at the forefront of the American avant-garde.
The panel discussion in the Sterling R. Church Auditorium was attended by students, community members and SUU faculty and staff.
Panelists were Linda Smith, artist director of Repertory Dance Theatre; Paul Ocampo, associate professor of dance; Jarrod Bray, assistant professor of scenic lighting and design; Marsha Bloom, lecturer of psychology; Emily Dean, associate professor of anthropology; Jeff Hanson, associate professor of graphic design; and Lynn Vargan, associate professor of music.
The panelists, from a wide array of disciplines, each shared examples of how the avant-garde movement has influenced their field.
Hanson said the graphic design world is often on the fore-edge of culture.
"It's in the nature of the profession," he said.
Hanson shared how, when working with his students, he wants the students to grope for an answer rather than expect an answer to be presented to them.
"(Graphic) design is not just putting a drop shadow on an image and using it in an ad," he said. "Design is finding a better way to do things with ways that might have been there all along."
Hanson said if artist Robert Rauschenberg had an idea of something to paint, he would go walk around the block until he forgot his idea.
"He wanted to experience the process of groping for an answer," he said. "I think you can understand his work better when you realize that it's not about what he created, but it was the process by which he created it."
Bloom shared an experience of hearing Yoko Ono, John Lennon's widow, speak. She said Ono sat on a chair placed on its side.
"She just sat there for a long time," she said. "As she sat there, I thought, That's the most profound thing and provocative thing I have seen in a long time."
Bloom said this simple action of sitting on a chair demonstrates what the avant-garde is.
"She had taken an object that we so often take for granted, not only for the purpose of sitting, but the manner in which we sit on it," she said.
Bloom said this demonstrated that everyday objects have become so conventional and people forget that they can be used in different ways.
Ocampo said learning choreography without music is something that happened a lot in the avant-garde, but was difficult to learn at first.
"It was odd and weird," he said. "But I was able to experience (the dance) more kinesthetically than cognitively."
Ocampo said it was the progressive freshness that made it enjoyable.
Another artist who was discussed frequently was composer John Cage.
Vartan said Cage is most recognized for his revolutionary piece 4'33" (pronounced four minutes, thirty-three seconds), when a pianist goes to perform a piece on a piano and sits there in silence for four minutes and thirty-three seconds.
To demonstrate the choreography that made its debut during the avant-garde, Smith led the audience and panelists in a dance.
The choreography was 15 seconds long. During the 15 seconds, dancers — in this case, the audience and panelists — stood up, clapped three times, said a color and sat down.
Vartan said artists of the avant-garde were opposed to improvisation and were calculated in creating in their medium.
"They set up all these structures, all these chances, throwing coins for each scenario," she said.
Vartan showed music scores by Cage that were seemingly random lines, notes or photographs of wood planks.
Dean quoted Cunningham, saying, "The meaning is for you to decide."
The panel discussed the importance and overlap of imagination, creativity and innovation.
Shauna Mendini, dean of the College of Performing and Visual Arts, said being aware of the avant-garde movement is important.
"Anytime you deal with an element that innovates, it's something that needs to be understood," she said. "These artists were seemingly fearless when it comes to stepping into the unknown, and that's something students need to understand."
Smith said early 20th century artists sowed the seeds for the avant-garde movement.
"'Nude Descending a Staircase' by (Marcel) Duchamp was really controversial and crossed a line," she said. "That's where I put the earmark of the beginning of the avant-garde."
The dance concert by the Repertory Dance Theatre in the SUU Auditorium was well-attended.
The concert featured works by Cunningham and culminated with a collaboration between Cunningham and his life partner, Cage, How to pass, kick, fall and run is performed to the music of two narrators telling a collection of stories.
Continued from print page 7
SUU students performed a piece called Gamut, choreographed by RDT assistant artistic director Nick Cendese.
Danikka Johnson, a sophomore dance performance major from Tooele, was one of the student performers in Gamut.
Everything about this piece was by chance," she said. "We had chalkboards that we randomly flipped over, we would flip coins, we had pieces of paper that we would draw from randomly to know what to do."
Johnson said lots of contemporary choreography depicts stories and has fluid movement.
"Merce Cunningham is not like that at all," she said. "It was very rigid and movement for movement's sake."