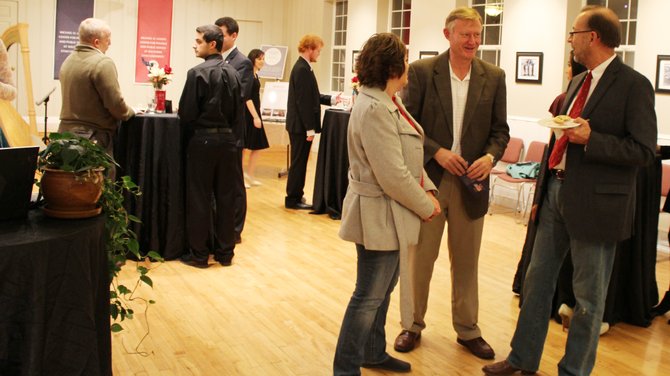 This year marks the 15th anniversary of the start of the Michael O. Leavitt Center for Politics & Public Service, located in the Sharwan Smith Student Center. To celebrate, the student-run Executive Council invited the campus and community to a birthday bash.
The celebration kicked off Friday with refreshments in the Leavitt Center and continued later that night with a gala at the Alumni House.
Kaitlyn Tracy, senior music education major from West Point and member of the Executive Council, said this was one of the most successful events the Center has hosted this semester.
"We had so many people stop by to tell us congratulations, we ran out of cake an hour earlier than we were supposed to. But we're grateful for all the support," Tracy said.
According to the Center's website, within the past year, the Center has hosted senatorial and mayoral debates, organized philanthropic enterprises on SUU's campus, organized weekly forums that address current issues and placed students in internships at state and federal government levels.
The Center serves as an interdisciplinary hub for leadership opportunities, education, public and humanitarian service and public policy research at SUU.
Eric Kirby, executive director of the Leavitt Center, said this celebration was put together by the students in the Executive Council.
"They wanted to celebrate, so they put in the work and made this all happen," Kirby said. "One of the things that I think makes our Center unique is the vast majority of our programs are student-led and student-initiated."
The Leavitt Center was founded in 1998 when Craig Jones, emeritus professor of political science, envisioned an organization that would stimulate students' interest in getting involved in the public affairs of their communities, according to the Center's website.
Courtney Brinkerhoff, a junior political science major from St. George, said the Leavitt Center has helped her gain life experience.
"I was able to intern for Senator Hatch's office in Washington, D.C. with the help of the Leavitt Center," Brinkerhoff said. "They have given me so many great opportunities."
The students within the Leavitt Center's Executive Council are learning to create, organize and instigate projects they have personally taken an interest in, Kirby said, which is an opportunity that is essential to their career, no matter their desired field.