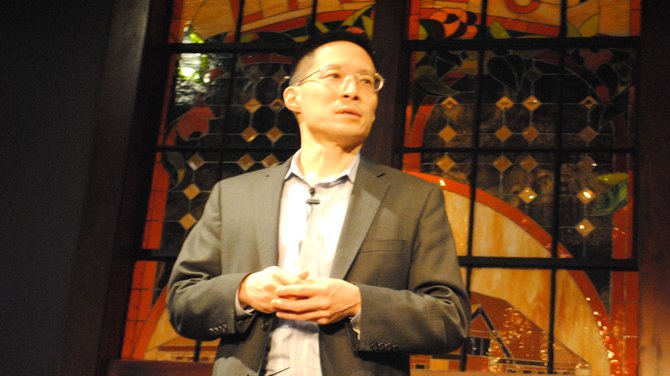 SUU students are asking themselves "What if?" and "Why not?" after the Thursday Convocation with Eric Liu, whose presentation focused on the need to cultivate creativity in order to enhance democracy.
Liu, former White House Domestic Policy Advisor and author of "The Gardens of Democracy," centered his speech around three main points: what imagination is, why it cannot be outsourced and how it influences everything people see.
Ray Grant, academic program officer and director of Convocations, said he thought Liu gave a wonderful outline to help students in their academic, as well as professional, lives.
"While listening, I felt like he was giving students a road map," he said.
Grant said he felt Liu encouraged the students in attendance to get out and make something more with their education.
"I think the call to action was to get involved and to be driven by your passion," he said. "Otherwise, you lose that ability to make connections that help you understand the world better."
Liu started off by pointing out that creativity is built off of the unknown.
"What makes a leader is having the willingness and ability to say what you don't know," he said.
Liu said there is a need for democratic leaders and influencers to be able to use creativity in solving problems with empathy instead of getting stuck inside the box.
"Creativity helps with our capacity to empathize," Liu said. "If you can't get out of your own head, you can't get into another's shoes."
Liu said imagination is the core to a liberal arts education like what is found at SUU. He said it enables students to be able to ask questions where others may not even see a question, which is a competitive advantage in the workforce.
Liu then related this back to democracy and how being able to think critically allows us to be contributing citizens.
Liu's final point was the idea that imagination is like a garden, which is alive with the ability to grow if it is nurtured.
"Imagination is a muscle, and everyone is born with a capacity for imagination," he said. "It's just stronger for those who work it."
Continued from print page 3
Liu closed his presentation by saying it's all right to fail and people need to learn from their failures by embracing them.
"Failure is the true F-word in American life," he said. "We need to embrace the willingness to learn to fail and be willing to take risks."
Hanna Pruetz, a freshman undeclared major from Riverton, said she came to the Convocation as part of the Passport class for freshmen. She said her favorite part was Liu's outlook on failure.
"I like how he promoted the idea of accepting failure and learning from it," Pruetz said.
Pruetz said this Convocation was the first one she has attended. She said she thought the concept of Convocations is a good idea for the university.
"It's cool how the university makes sure they are things that we would actually be interested in and takes the time to put them all together," Pruetz said.
Grant said his hope with the Convocation series is that students will take advantage of the speakers that visit the university.
"The notion here is that leaders, thinkers and innovators from all walks of life have some applicability to whatever level of study and year that you're at here," he said.
The next Convocation will be held Oct. 29 at 11:30 a.m. with award-winning author Craig Childs in the Great Hall. The title is Finders Keepers: A Tale of Archaeological Plunder and Obsession.