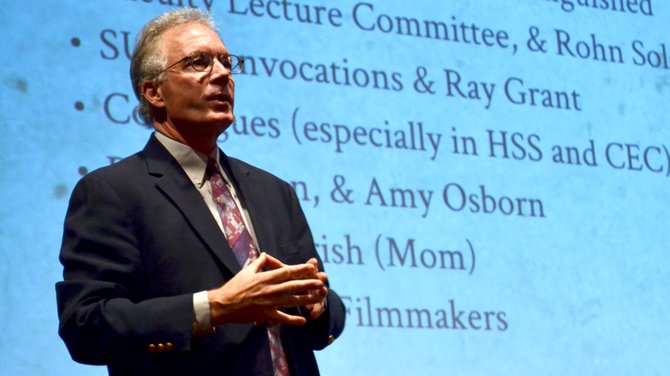 This semester's SUU Convocation Lecture Series began Tuesday and this year's Distinguished Faculty Lecturer, professor of history and director of the Community Engagement Center Earl Mulderink, who spoke on how the Hollywood portrayal of history can differ from the truth.
Mulderink discussed the importance of breaking the racist stereotypes usually found in Hollywood films set in the Civil War era. He also brought attention to the fact that the majority of the Hollywood-made historical films contain many inaccuracies.
He compared four different Hollywood movies to the actual events that inspired each movie.
D.W. Griffith's The Birth of a Nation, Victor Gable's Gone with the Wind, Edward Zwick's Glory and Steven Spielberg's Lincoln all depict different tales that take place during the Civil War era.
Mulderink set Glory apart from the other movies, saying it plays a pivotal role in reminding viewers of the important role African-Americans played in the Civil War. He continues by saying that even though it is riddled with inaccuracies, Glory may be one of the most historically accurate films ever made about the American Civil War.
Mulderink said students shouldn't always take what they see in a Hollywood film at face value. He advised students to be curious and to use these movies as a starting point for more research and a learning opportunity.
"History is about interpretation," Mulderink said. "We should welcome different interpretations of the past, but also try to ground them in facts and general understanding."
He said that film can be a valuable teaching tool even when it is fundamentally flawed, as it can still be an educational enterprise for further discussion of the accurate facts.
Madison McFarland, a senior communication major from Heber, said this was one of the most interesting Convocations she has been to.
"I have attended a few Convocations in the past," McFarland said. "I really enjoyed this one. Dr. Mulderink made me think twice about how I think about historical events I've seen in movies."
Janessa Ludlow, a senior criminal justice major from Alpine, said she had a positive experience at her first Convocation.
"I'd never been to one before," Ludlow said. "I just had to come to this one because the topic seemed so interesting. I love watching historical war movies, and hearing this lecture gave me an entirely new perspective."
SUU's Convocation series is free and open to students and the public.