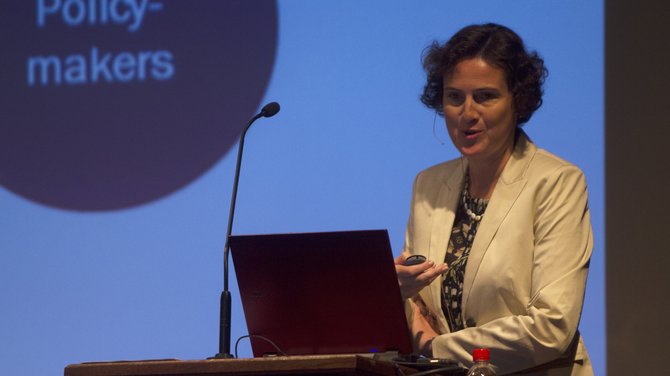 Researcher and business coach Christine Schweiger, a professor of science and entrepreneurship at the FHWien University of Applied Sciences in Austria, spoke to SUU students and faculty on Tuesday about small- and medium-sized enterprises, or SMEs.
Paige Campos, a sophomore management major from Hurricane, said her initial interest in coming to the Convocation came from her accounting professor.
"My teacher, Mrs. Pierson, said eight out of 10 people will have their own small business, and so I thought this was a great opportunity to learn more about small- and medium-sized businesses," Campos said.
The lecture began at 11:30 a.m. in the Gilbert Great Hall of the Hunter Conference Center with a welcoming from Raymond Grant, director of Convocations, and an introduction from Carl Templin, dean of the school of business.
Schweiger began by talking about the university she teaches at and followed that with three current projects of the FHWien University entrepreneurship research team that she is a part of.
Schweiger said the research team is made up of nine team members, including herself. The main focuses of the team include creation of innovations, business formation, organizational development, development of young enterprises and social entrepreneurship.
"We work closely with companies and policy makers to find solutions for specific challenges based on our research results," she said.
Campos said she liked what Schweiger said about teams.
"Having specialists from different fields on a team can help you … make a great business," Campos said. "I never really thought of that before, but I definitely agree, and I think this will help me in my future pursuits."
Schweiger said she is the project leader of the biggest piece of research the team is currently working on, called SME Change,
"The aim for this project is to maximize how we can support SMEs to deal better with changing conditions," she said. "All over Europe, SMEs are having to deal with the increasing pressure to change. Being able to better deal with changing conditions requires specific capabilities within companies."
The second research project examines SMEs in border regions, where poor economic situations are a result of border disputes. Schweiger said they hope to find a way to increase company potential and profits through their research.
The last project is called Re-Design in SMEs, in which the research team is attempting to aid small business models so they can become more profitable and successful.
Luis Stakebake, a freshman theatre arts major from Ogden, said he thought it was interesting that the research team focuses on helping the small and medium-sized organizations get up and running.
"It's cool that they're so devoted to … figuring out the best ways that they can improve those entrepreneurships in businesses," he said.
Jake Feild, a senior management major from Peoa, said the part that stood out most to him was when Schweiger spoke about the cultural differences regarding risk.
"She mentioned that in Germany, businesses are very opposed to risk, that it's not something they emphasize or teach should happen," he said. "The mindset in the United States, however, is one that if you have an idea, you should go for it, and if it doesn't work, then try something else. In the U.S., risk is embraced, but in many European countries, risk is avoided."