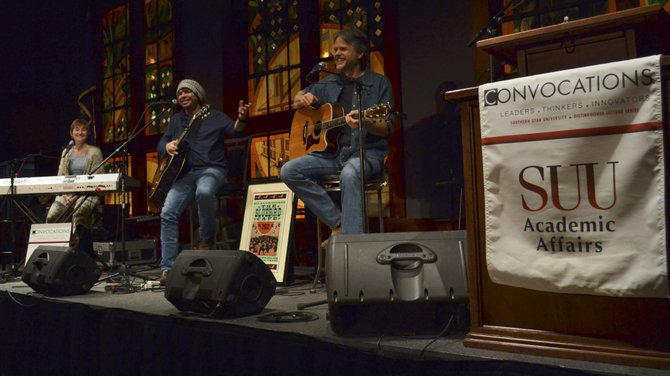 Three singer-songwriters from the Bluebird Cafe in Nashville, Tenn. came to SUU for a special session of Convocations that differed from the typical forum.
The musicians performed in the Gilbert Great Hall of the R. Hunter Haze Conference Center Tuesday afternoon. They also told those in attendance where each song they sang originated.
Bailey Bowthorpe, SUUSA vice president of academics, said SUUSA partnered with Convocations to create this special concert to help T-Birds connect with fellow students.
"This Convocation came together based on the question, 'What can bring students together and help them unite?'" she said. "In the end, it was about bringing students together on something we can all relate to, … and we decided that was music."
Bowthorpe said by changing up the average Convocation, it brought a different vibe into the Hall.
Lari White, one of the three artists who performed Tuesday, said the Bluebird Cafe, a music venue in Nashville that just passed its 31-year anniversary, has been in the public eye more recently because of the hit TV show, Nashville.
"Yes the Bluebird is featured in the show, but it is not always correct representation of what life is really like there," White said.
All three of the artists said they agreed that any attention is good attention because it has been great for the economy of Nashville and has brought more attention to the Bluebird Cafe.
During the Convocation, White talked about the music industry and how it has helped her to identify with many people in a way she never expected.
"The overall effect of this is that I feel so much closer to humanity," she said. "The stories we tell and the songs we sing are our most powerful tools we can use to come together. I always strive to say something, to bring people closer together."
Marc Beeson, another of the artists who performed during the Convocation, introduced one of his songs and said it took him a while to get it out.
"I had a specific tune in my head for about a year," Beeson said. "So one day, I just sat down and pounded it out. … That song took me about one year and two hours to write."
Beeson also gave some advice to those who aspire to do big things in their chosen career path.
"If you're going to do something, and it's something you really want to do, then you have to go where the best are," he said. "For country singers, that place is Nashville. You learn the most by being surrounded by the best."
Before getting to Nashville, Beeson said he thought he knew what it took to make it, but he realized that was not the case.
"The bar is so high," he said. "I don't use the word 'great' anymore. I used to think my songs were great; as soon as I got to Nashville, that lasted about five minutes."
James House, the last of the three artists, agreed with Beeson, saying that "hopefuls" go to Nashville trying to get a head start.
"There are very few people who are able to be successful and not there," House said.
Chris Nielson, a junior communication major from Murray, said the Bluebird Cafe Convocation was a different feeling than the other Convocations he had attended.
"It's nice to take a break from school and work," Nielson said. "I'm so glad I came. The atmosphere creates a really nice, relaxing feeling."