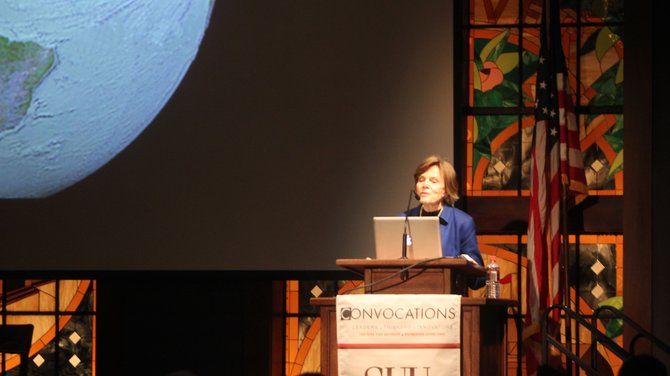 A National Geographic Explorer-in-Residence spoke Tuesday in the R. Haze Hunter Conference Center during another installment of the Spring 2014 Convocation series.
Sylvia Earl spoke to students and community members about an issue she titled "Mission Blue: Connecting People with the Sea."
Earl said not all of those who have spent time by the ocean have had the chance to connect with it.
"You may not touch the ocean, but the ocean touches you," she said. "The oceans and seas are what run the water cycle. If you've ever had a drink of water, or interacted with rain, you have connected with the ocean."
Earl said as time passes, it is becoming increasingly difficult to keep track of the natural assets humanity used to have, but it is important to do so.
"Nature is not free; there is a cost to everybody," Earl said. "We have to balance the books and put some back. You can't continually extract from a bank account and expect it to keep giving; you've got to take care of it."
Jenna Tapia, a junior biology major from Pahrump, Nev., said the Convocation was interesting and liked being able to listen to a professional related to her field of study.
"It's really nice to see experts in the field and hear what they have to say about different things going on in the world around us," Tapia said.
During her lecture, Earl also said many people do not realize how nature works and we have to give back, or we will run out of natural resources.
"If I could choose to be anywhere in time, I would choose now," she said. "Look back to a few hundred years ago where our numbers were comparably small and our assets were largely intact. We have been drawing on those assets, as our numbers and posterity climb."
There are two sides to every story, she said, and without those assets we would not be where we are today.