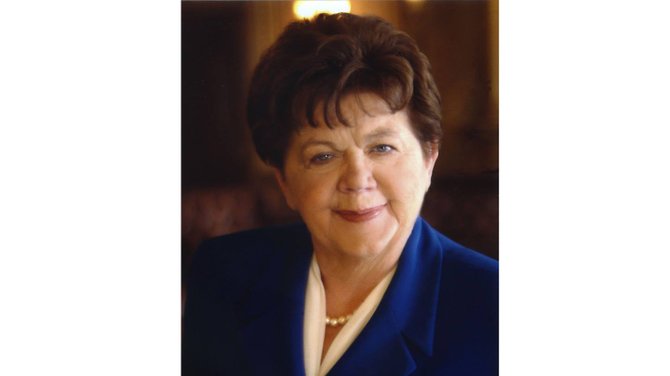 Olene Walker, former Utah governor and sole female governor for the state to date, will speak at a Convocation Tuesday on the importance of women finishing a higher education degree.
Walker, who served as Utah's 15th governor from 2003 to 2005 and lieutenant governor for the 10 years before 2003, was on the Utah Women's College task force, which looked at the rates of women who graduated college.
"We do remarkably well in women entering university study, but we falter significantly in the number that graduate," Walker said.
Ray Grant, academic program officer and director of Convocations, said he asked Walker to come to speak after looking at recent news stories citing the Provo – Orem and Ogden – Clearfield areas as the top two worst-paying cities for women in the nation.
He said these numbers prompted him to focus this semester's Convocations on women. Grant said he wanted to start the series by discussing women's education in particular.
Walker said finding different ways for women to get their degrees is important, whether it means taking classes online, at nights or on weekends or finishing up later in life as a nontraditional student.
According to the task force's Report to the Governor, Utah women's graduation rates were six percentage points lower than Utah men's, and two percentage points lower than women on a national level.
Walker cited one of the reasons for this gap as women in Utah will go to school, get married, and never finish their education because they do not think they will need to.
"Sometimes in their lives, even though they don't think they need a college degree, they often find that they do," she said, speaking about the women who have not finished college. "They are looking at a less-rewarding job than they might have had if they had completed that degree."
As a mother of seven and a grandmother of 25, Walker said this was obvious even in her own family. She gave the example of two of her daughters: one married and went to law school while starting her family, while the other tried to find jobs during the economic downturn, but was turned away.
"She was offered a couple of good jobs, until they found out that she didn't have her degree," Walker said. "We want women to look at options and, if at all possible, finish their degrees, because so many of them … have found that they do need them in their lives."
Bailey Bowthorpe, a senior communication major from Holladay, said she was excited to hear Walker speak on women's education.
"I think it's so important. Obviously, I am a woman and I'm in college, but it is important to shed light on the issue and see what her perspective is on the subject as someone who has been so involved in leadership roles here in the state," she said.
Walker said there are many opportunities that exist for women, both married and unmarried, to help them finish their degrees.
Walker stressed that women should never feel they have to make a choice between getting married or getting an education.
"It shouldn't be either-or, it shouldn't be 'should I get an education or should I get married?'" she said. "They should be able to do both."
She said if women want to get married and have children, the statistics show that women with additional education have the opportunity to spend more time with their children and can emphasize the goal of getting a higher degree.
Walker's mother taught and graduated college, which she cited as her example for continuing her education. Walker has a doctorate from the University of Utah, a master's degree from Stanford and a bachelor's from Brigham Young University.
Walker said she was excited to come to Cedar City because she and Richard Kendell, SUU's current interim president who will be moderating the Convocation, know each other well through their efforts to further education.
The Convocation will take place Tuesday at 11:30 a.m. in the Gilbert Great Hall of the R. Haze Hunter Conference Center.