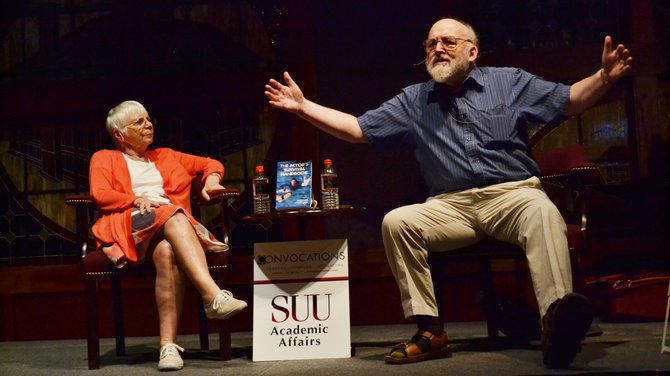 SUU's Spring 2014 Convocation lecture series, titled "Leaders, Thinkers, Innovators," will kick off Tuesday with an address by Utah's 15th governor and will include presentations by other experts over the course of the semester.
Ray Grant, director of Convocations, said this semester holds some new themes and some interesting and educational presentations.
"As the Convocations board has developed this semester's schedule, a couple of really important themes have developed, and one of those is the importance of educated women," Grant said.
Utah has traditionally struggled when it comes to equality for women in the workplace, and it is the responsibility of educational institutions to bring attention to these issues, he said.
"Utah has made it onto the list of lowest-paying cities for women, and this is not a list that we should be on," Grant said.

Emily Ronqiullo, a senior communication major from Huntington Beach, Calif., is a student assistant for the Convocation series and said the differences will be educational and beneficial to students.
"There is a small underlying theme of women in leadership with three of the speakers," she said.
Grant said Olene Walker, Utah's 15th governor and the first speaker of the series, will provide SUU students with a great role model illustrate the importance of education.

"Walker, as the first female governor of Utah, is a first rate example of a woman who has focused on leadership and education even after leaving office," Grant said.
Kathryn Clark, NASA Chief Scientist for Human Exploration, will follow Walker as the second speaker for the female education series, and will come to SUU Jan. 21.
"NASA has been in the news a lot recently, and Clark will be talking about some of the major disasters they have been dealing with and the importance of leadership when dealing with those issues," Grant said.
Sylvia Earle, an Explorer-in-Residence for the National Geographic Society, will wrap up the female education series section of the Spring 2014 Convocation series with her presentation Feb. 11.
"Earle ties the theme of 'innovation' into the presentation," Grant said. "She has broken down so many barriers for women and has even invented some of the equipment she has used in her career."
Convocations has also developed a new partnership with SUUSA this semester and will be collaborating with them on a series about singers/songwriters, Grant said.
"The second big theme this semester is active student participation, and in that vein, we will be working with SUUSA to provide some workshops that will teach students about the music industry," Grant said. "These special presentations are an integral part of the Convocation series."
The series will also include creative dance workshops, an address from a former U.S. senator, and an expert on child education.
For a full schedule including dates, times and locations or for more information on Convocations, visit www.suu.edu/convocations/.