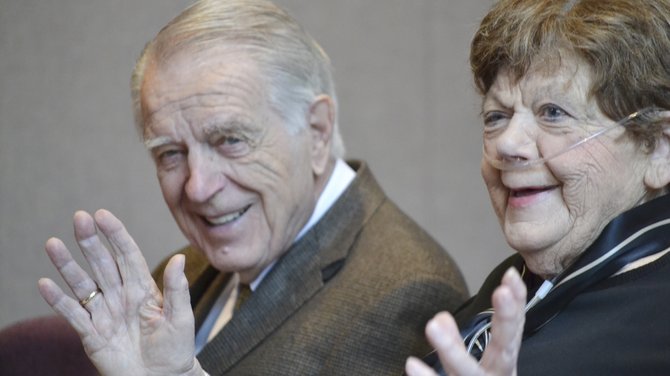 Olene Walker, 15th and only female governor of Utah to date, spoke on women in education for the opening Convocation in the Spring 2014 series.
Walker was introduced by Ray Grant, academic program officer and director of Convocations, who said he wanted a conversation on campus on women in school after numerous news articles had recently run. One of the articles said the Orem – Provo area is the worst place for women's pay in the nation, others discussing Utah's lagging behind in higher education.
Richard Kendell, past interim president of SUU, moderated the Convocation. He began the conversation by looking back at a discussion he said he had with Dave Clark, house speaker of Utah at the time, about Walker being the first female governor of Utah. Kendell said Clark remarked on how polite and civil Walker was, but how tough she was as a politician.
At this, Walker laughed and said that was a compliment, but said during her time as governor, she wanted to make sure that what was passed was the best it could be, and if there was a better way to accomplish something, she would veto it.
"As governor, I felt I had to prove that a woman could get things done," she said.
Kendell said he saw that through her term, she would do what she thought was right, regardless of being re-elected in the future.
"If it was right, then you did it, and that kind of scared people," Kendell said, to which Walker jokingly added, "And you'll notice, I didn't get re-elected."
Although Walker only served as governor from 2003 to 2005, she also served as lieutenant governor for 10 years before that, as well as on countless boards and committees, including the Utah Women's Task Force. Walker said this task force found there is a 6 percent difference between the number of Utah men and women who graduate.
"You may say, 'Well, six percent isn't much,' but every percent represents hundreds of students, so it is a big percentage drop," Walker said.
Walker said there needs to be a push in attaining a higher degree, since the same amount of men and women begin to attend college.
"It isn't about entering college," she said. "It's more about finishing college."
Walker said that to fix this problem, we must fix the ideas that the Utah community and women have about females and higher education.
"We train too many women to think, 'If I get married, I don't need to finish college,'" she said. "Wrong. As many women work (in Utah) as men do."
Although many are shocked with the numbers that have surfaced about Utah housing the top two worst-paying cities in the nation for women, Walker said it should not be a surprise. Since there are fewer women who finish their degree, those women will get lower-paying jobs, she said.
"We've accepted the idea that women stay at home and don't work," she said.
One of the reasons for women dropping out of college Walker cited was they were getting married and starting families.
Walker said there is nothing wrong with getting married but women should feel like they can get married, start a family and finish their education.

Walker said in order to help women finish their degrees, and know they are capable of excelling in STEM related fields, they must be offered encouragement.
"I'm not sure we as parents, we as community members, we as organizations encourage women to finish that degree."
After the convocation, Kendell said that the Convocation was important not only because of Walker's ideas about women and higher education, but also because of the example she is to students.
"The thing that is unstated is who she is, which is just a remarkable example for men and women, because she has achieved so much," he said. "She's done it all. It is incredible."
During the convocation, Kendell listed all of Walker's accomplishments, including her years of being a wife, a mother to seven children and a grandmother to 25; getting her bachelor's, master's and doctorate; being governor, lieutenant governor, legislature as well as serving on countless boards and task forces, at the end asking, "How did you do it?"
Walker said life happened, and opportunities kept coming her way.
"Fortunately, or unfortunately, my seven children were born in a span of 12 years," she said. "After I got my master's … I thought, 'I can get my doctorate. I'll just do it in my spare time.' So I just set aside some time -- actually it was from 11 (p.m. to 3 a.m.) -- to work on my dissertation."
In order to give more opportunities for women to accomplish their degrees, Walker suggested to the university that instead of continuing to set classes in early morning and during the day they begin to offer more online courses, or night courses.
Kendell asked Walker what she thought the Church of Jesus Christ of Latter-day Saints missionary age drop would do for women in college. Walker answered that she didn't know but was excited to read the dissertation a student would write on the subject. She said missions for men and women can open them up to new experiences.
Walker also said that over the years, the LDS church has made improvements on encouraging women to get a higher education degree.
Walker said it does not matter if women are non-traditional students, or cannot get the degree in four years.
"It may take longer, but so what? The goal is getting it, not getting it in a specific time frame," she said.
Lindsay Terry, a senior business marketing major from Tooele, said she attended the Convocation because her father was on Walker's security team, so she wanted to say hello and hear her speak.
"She is a great example of what women can accomplish, and I really look up to her," she said. "(The convocation) showed to me that I should just have courage and reach out and do what I know I can do."
Doranely Mejia, a freshman undeclared major from Las Vegas who was one of the students who stood and asked a question of Walker, said she enjoyed the Convocation because she enjoyed Walker's ideas on women and education.
"I'm kind of a feminist," she said. "So it was nice to get that perspective."
Walker finished up her day at SUU by having lunch with a her husband, Myron Walker, students, faculty and important contributors to SUU, including Dixie and Ann Leavitt.