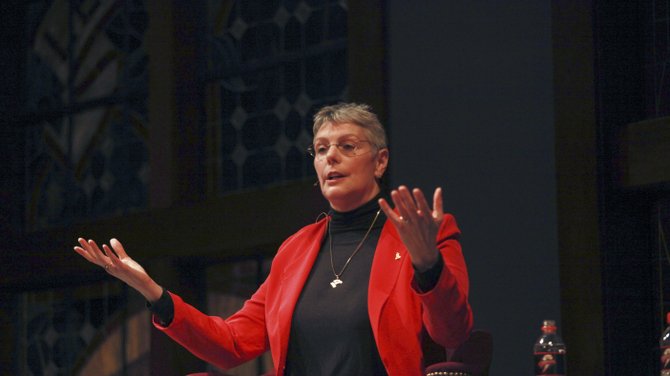 Kathryn Clark, the chief scientist for Human Exploration at NASA, spoke on multiple disasters and the leadership qualities it takes to get through them at Tuesday's Convocation: "Find it, Fix it and Fly it."
Clark told multiple stories about crashed rockets and failed missions.
She talked about the small problems that caused the accidents, but she said the main problem with all the disasters was a lack of ingenuity.
"The failure of imagination leads to disasters," she said. "You need to imagine every possible scenario, even if it seems outrageous."
Clark also talked about the aftermath of disasters and how to handle them best.
"Tell the truth, tell it all and tell it now," Clark said. " … You can come back and say, 'This is what we thought, and now we know better.'"
Clark said NASA does not cover things up and if a tragedy occurs, everyone at NASA feels responsible for what happens and are devastated.
Clark said it is important to get along with other countries, especially in space. Some of the United States' shuttles and rovers are in space right now, and the only country that can service them is Russia, she said.
"The projects and missions on the line are way too big to get into petty arguments," she said.
"In space we are like families," Clark said. "You can't just leave your family. You have to sit down and figure out, and the family will be happy again."
Clark is the chief of human exploration and said she hopes humans will be able to continue space exploration.
However, with new technology, more countries are exploring with drones and rovers and Clark said there are pros to both.
"Machines aren't in as much physical threat as humans and stay on track," she said. "That being said, humans don't stay on the mission all the time. Humans see something shiny and go, 'Look at that,' which can be good and bad."
Randy Seely, a senior art education major from Spanish Fork, said he was impressed and thought the message overall was a positive message everyone should hear.
"I think it's pretty amazing we are able to get such important speakers here at SUU," he said. "I thought what she had to say was pretty insightful. For her to confront different events as learning experiences as a launch pad and a learning foundation is amazing."