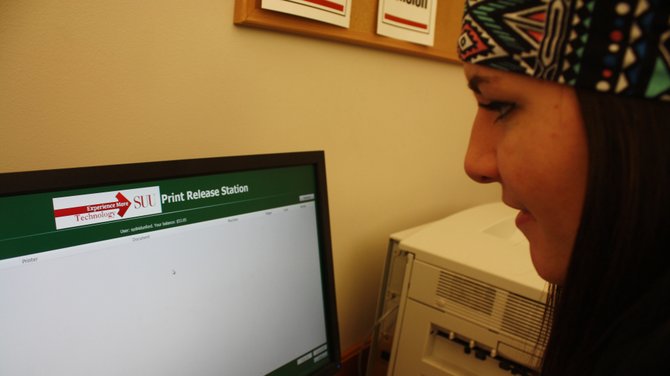 As of the beginning of the semester, when a student prints a document in the Gerald R. Sherratt Library or any of the campus computer labs, the students' print balance is shown as a dollar figure instead of a page count, causing concern for some students who were unaware of the changes.
Jim Shakespear, an information technology administrator, said the software that keeps track of the print credits was replaced over Winter Break. The provider of the old software went out of business and could no longer provide technical support. A decision was made to replace the software with something more up-to-date.
Shakespear said the only thing that has changed with the print credits are how they are counted. In the past, students received 200 pages every semester; now they receive a $10 credit, which is equal to 200 pages, and the extra money will roll over to subsequent semesters, just as before.
"The new software is designed to only keep track of printing by cost, instead of by page credits," Shakespear said. "The print credits cost 5 cents per credit on the old system, so we converted that over in all of the students' accounts."
Sara Bowker, a freshman physical education & human performance major from Layton, said she thought the changes were confusing.
"I thought it was weird and it kind of scared me because I thought I had to start paying now," she said. "I thought they took away the prints."
Shakespear said the $10 is not going to be added to student fees, it is just a different way to count the print credits. He said the $10, or 200 prints per semester should be enough for most students' printing needs.
Shakespear also said the credits will roll over each semester, like they did previously, so some students have a larger monetary balance if they have been at SUU longer.
Aubrey Boneck, a senior English major from Cedar City, said she is getting used to the change with time.
"It's a mental thing, for me, because I feel like I'm spending more money, but that's just me," she said.
Robby Lee, a senior physical education & human performance major from American Fork, thought changing the print credit from pages to a monetary amount was pointless.
Shakespear said the new software also has features the IT Department will hopefully utilize in the future.
He also said the new software does not have the problems the old software was experiencing.
As far as complaints from the students, Shakespear said, "There has only been a lack of communication from (IT) to the students in how the new product works."