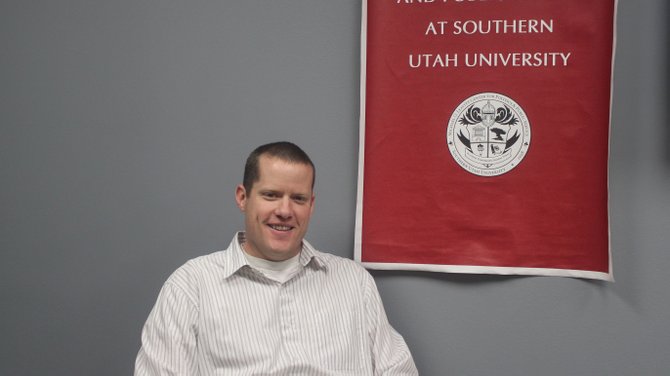 Eric Kirby has had numerous roles at SUU since his employment began in September 2012 and has helped change campus organizations dramatically, all while being a father of four.
Kirby is currently the executive director of the Michael O. Leavitt Center for Politics & Public Service, the advisor of Student Governance, Development and Leadership for SUUSA, the advisor for the Veterans Club, the advisor for the Judicial Council, a board member of the Utah Debate Commission, a board member of the Utah Intercollegiate Assembly, a professor at SUU and a practicing attorney.
Kirby has also received the SUU's Advisor of the Year award for the 2012-2013 year and in the same year, the Leavitt Center received SUU's Organization of the Year award.
Kirby said he was born and raised in Salt Lake City, where he attended Taylorsville High School. He married his high school sweetheart after he served a mission for the Church of Jesus Christ of Latter-day Saints, in Bogotá, Colombia.
Kirby also said he completed his undergraduate work at SUU where he majored in political science, and after graduating, he interned for Senator Orrin Hatch and the U.S. Senate Judiciary Committee in Washington, D.C.
Kirby went on to get both his master's degree in Administration and his law degree at the University of Denver. Kirby then practiced law as a trial attorney with the Murphy Decker Law firm in Denver for seven years.
In 2012 he made the decision to return to SUU to work because he would be able to spend more time with his family and he wanted to help students.
"I enjoy the practice of law, but … we were trained to tear down your opponent, to destroy the opposing side," Kirby said. "The thing I love at SUU is the opportunity to help build people up and the opportunity to help give back and see a real difference in people's lives."
Paige Gunn, student director of the Leavitt Center's executive council, said she was a part of the Leavitt Center when Kirby first joined and has been able to both work with him and be one of the students in his Professional Development class.
"One thing to (know) about Kirby, is he loves working with students," Gunn said. "He's one of those people that doesn't come to do a job, he comes here to interact and to make things better."
Kirby said one thing he has enjoyed about working at SUU is seeing the progress that can be made with the different organizations. He said the Leavitt Center has hosted over 140 events, raised over $1000 for local charities, completed over 1500 service hours, raised over 470 pounds of food for local food banks and placed over 57 students into paid internships since the end of June 2013.
"Each event (hosted by) the Leavitt Center is really run by a student," Kirby said. "Each student gets to … make that project how he or she wants it to be and get that experience. To see these students put on fantastic events from beginning to end and walk away and have that wealth of experience under their belt, ... I don't know how you put a price tag on that."
Sam Findley, a member of the Leavitt Center's Executive Council, said he joined the Leavitt Center because he was impressed by all the things Kirby was doing for the Center and the experience and professionalism that Kirby brought.
Findley also said Kirby has helped him coordinate multiple events and projects, and that he thinks they were all successful because of the things Kirby taught him.
"He is such an enabler of students' passions that it is amazing," Findley said. "If you have an idea, he doesn't take charge or take over. He really allows it to be your project … he does such a great job of helping you foster this idea and helping it grow into something great."
Gunn said she has learned a lot from Kirby about being a leader, having responsibility, professionalism and how to be confident when talking to administration and public officials, and that her life has been changed because of the interactions she has had with Kirby.
Gunn said she feels more confident graduating because the responsibilities Kirby has given her have taught her how to be a good leader and conduct herself as a professional.
Kirby said he sees himself working in higher education for the rest of his professional career and that he hopes to stay at SUU for a long time and be able to continue to expand the Leavitt Center's outreach in his time here.
"I think there are so many benefits and rewards that come from working in higher education that you can't get anywhere else," Kirby said.