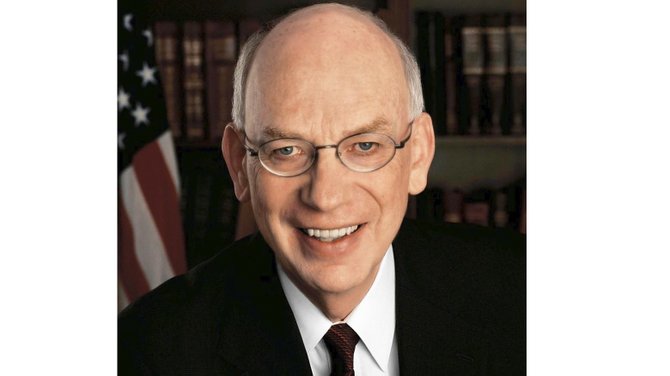 Robert Bennett, former United States senator, will speak on the American West during the annual Driggs Lecture Tuesday.
Raymond Grant, academic information and program officer, said the Driggs Lecture is named after Howard R. Driggs, an educator whose career began at SUU.
Grant said the Driggs lecture has been an annual tradition since 2009 to kick off events for Founder's Week, a week-long celebration of those who helped build and create SUU.
"We honor (SUU's founders) by choosing (people) to speak every year who (are), through their works, leaders, thinkers and innovators," he said.
Grant said the theme for every Driggs Lecture is usually drawn from the American West, and since he knew Bennett and was familiar with his work with the topic of the American West, he asked him to give the Driggs Lecture this year.
Grant said this year's theme will focus on conflict within the American West because he read Amy Mciff's master's thesis, which focused on that topic, and it sparked his interest. Mciff is SUU's Creative Outreach specialist.
"I love this idea of (someone) outside of the normal group we assemble being the inspiration for our Driggs Lecture," Grant said. "That says a lot about SUU."
Mciff said her thesis focused on a Washington County land use bill Bennett sponsored in the senate, which detailed what could happen with public lands.
"This bill, when passed, ended in a landmark piece of legislation that illuminated a new way by which county land use bills could be crafted," she said. "This happens through widespread participation from stakeholders instead of just administrators and lawmakers making decisions about what should happen to public lands."
Bennett said the use of western lands has become one of the most important political issues in our country today.
Bennett said he will focus on the history of conflict surrounding public lands in the American West and what he has worked on to get more people involved while he was a senator.
"I hope the SUU community will get ideas on how to move forward with these issues in the future," he said.
Mciff said the subject of public lands is important because the federal government owns a majority of the state.
"While this is a good thing in terms of access to public monuments, national parks and other public places. It also means that whenever a piece of land is in dispute, a lot of people are going to fight over it," Mciff said.
Mciff said she is looking forward to hearing Bennett's thoughts on the legislation and finding out whether he feels it was a success after all was said and done.
Grant said he hopes the lecture will inspire a discussion between students.
"Conflict resolution in the west has many challenges," he said. "Starting a conversation can go a long way."
Bennett said he is looking forward to coming to SUU and he always enjoys his time in Cedar City whenever he visits.
"I have been coming to Cedar City every year for the Shakespeare plays and have spoken at SUU before," he said. "I feel connected to Shakespeare and to SUU as a result."