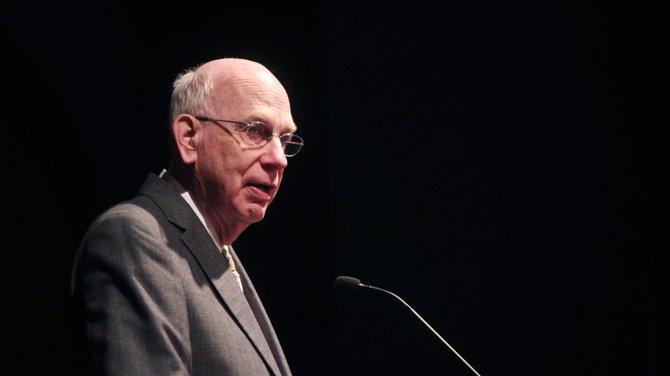 Former U.S. Senator Robert Bennett spoke about compromise within politics, citing the process he took to create and pass the Washington County land bill, Tuesday in the Great Hall of the R. Haze Hunter Conference Center.
"How to solve the land conflicts in the west is to recognize that there are legitimate issues and there are those putting forward various points of view; (if you) get all of them in a room together, … (they) must recognize that they are not the only people that have a worthwhile ideas," he said.
Bennett said putting the Washington County land bill together, and passing it, was possible through understanding the two sides that were warring with each other and how power came into play with the situation.
"When it comes to the question of how the public lands are going to be dealt with in the west, you walk straight into the whole question of power," he said.
Bennett said he learned from getting his bachelor's degree in political science, and during his time as a senator, that politics is all about power.
"Political science is a study of power," he said. "How do you get it, how do you keep it, how do you use it, how do you pass it on and how do you deal with other people who have it to accomplish a particular goal?"
Bennett related this to the the three things the devil tempted Jesus with in the Bible, and said the third and ultimate temptation the devil offered to Jesus, power, is the ultimate temptation for most humans on a personal level.
"We see how intoxicating the idea of power can be," he said. "A lot of people get into politics, professing that they are there for very high, important, humanitarian reasons. But the thing that really takes them there is a lust for power."
Bennett said he faced two types of people when it came to easing the conflict in southern Utah: the "true believers," or people who were unmoving in their ideas, and those who were interested in the conflict because of power.
Bennett said those who want power often get it by mobilizing the true believers to act on their behalf.
The two sides of the issue surrounding the Washington County land bill were the people who wanted to deem lands in southern Utah as "wilderness areas," which is a tight description that says there is no evidence of humans within the lands, and people who owned those lands and who had worked and lived on them for generations, he said.
Bennett said he did not know about the conflict until he ran for senate in 1992 and as he tried to help the constituents who came to him he ran into true believers on both sides of the issue and they would not compromise.
"(They) think the longer (they) wait, the more (they) win, so every compromise I tried was rebuffed," he said.
Anne Smith, Outdoor Education Series director, said she thought Bennett helped show the push and pull that comes with passing bills.
"I think Senator Bennett did a great job articulating the struggle with getting people with very, very strong opinions together," she said. "Wilderness kind of represents the pinnacle of our political atmosphere."
Smith said she and her students have discussed the bill in class. She said the conflict hit close to home for many of them since they have lived on rural land their whole lives, and usually, their families have lived on the land for generations. Once they started talking about the bill, however, Smith said they began to understand.
"It isn't as easy as we think; but at the same time, if everybody is willing to just think about it, we can get a lot done," she said.
Bennett said he met with Bill Meadows, leader of the Wilderness Society at the time, and started discussing ways the two sides could compromise.
"I would say, 'Do you understand the consequences if this fails?'" he said. "I would lay out a scenario and say, 'Do you really want this to happen, just because of this piece of land? Is it really worth it?' 'Well, no,' they would say."
Bennett said this was the first time in history the Wilderness Society testified in favor of a Republican land bill. The bill did not pass the first time. Later, Bennett attached the bill to another bill, and it passed. It was signed by Barack Obama in 2009.
"What we did with Washington County, … we hope can be a template for how we can conclude conflicts," he said.
Bennett discussed the bill during the Howard R. Driggs Memorial Lecture, an annual part of Founder's Week.
President Scott Wyatt introduced Bennett and said the Lecture memorialized Driggs, who was a historian and educator who had his start at SUU.
"I never knew Howard Driggs; but from what I've heard about him, I suspect he would be pleased with the idea that everybody who has an interest in the west would have a right to a voice in the conversation," Bennett said.
The Lecture was also part of the Convocation Series and was themed "Conflict Resolution and the New American West," a theme Ray Grant, director of Convocations, picked after reading a master's thesis written on the Washington County bill by Amy Mcliff, an SUU alumna who graduated in public administration.
Mack Damavandi, a senior mathematical science major from Cedar City, said he came to the Convocation because he heard Bennett speak in August. He also said he interned at the State Capitol and after dealing with water rights, he was interested to see how Bennett's bill affected the water rights of Washington County.
"I really think it's important for the general public to have access to general waters. … There should be some kind of compromise that should be reached, but it's also something that people are very passionate about," he said.