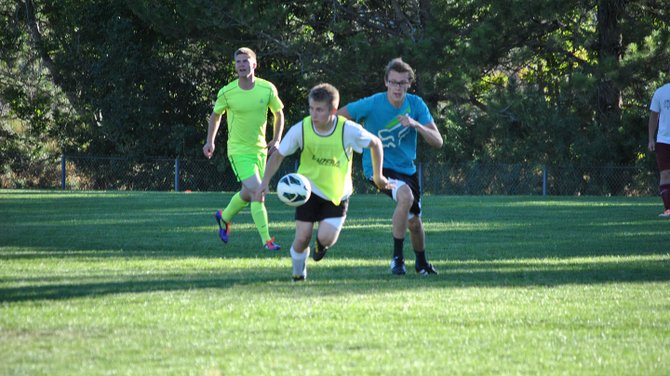 After years of inactivity, committed students have come together to bring the Men's Soccer Club back to life and have set it on a path to reach even greater heights than before.
Butch Hatch, an undeclared major from St. George, came to SUU in January of 2013 with a love of many sports, but for soccer in particular. As he looked to join a team/club, there were none to be found.
Hatch said he wasn't aware of what would happen next, nor did he know he would become the president of the club.
"When I and other friends first got together to create the club over a year ago, there was so much more to do than we realized," Hatch said. "Since then, we have spent close to 100 hours preparing, planning, contacting other clubs and working out all of the logistics to get the club running strong."
In his time at SUU, Addisu Ketema, a mathematical science major from Addis Ababa, Ethiopia, has seen how the club has transformed.
"When I first started playing with the club, it really lacked organization. We didn't even have regular practices; it's hard to say we even had 'a team'," he said. "But now the club is well organized, and everyone that's involved in managing the team is working hard to keep it that way."
Hatch went on to say how it has been challenging to overcome the struggles of revitalizing the club.
"There have been a lot of difficulties, but most have been due to re-establishing the club instead of simply continuing it," Hatch said. "This means recruiting a base of 20 SUU students who can be consistent contributors to the club, creating good relationships with the other club teams within our designated region, as well as working out a fall schedule with those clubs."
Hatch went on to say that possibly the most frustrating aspect is the process of working out the club's agenda with the scheduling and groundskeeping departments at SUU.
"The whole process was confusing, and I felt like our requests were consistently misunderstood, and nobody was on the same page," he said. "This resulted in close to two months of emails going back and forth between SUU contacts and myself to finalize our schedule. While I am very appreciative for the patience of all those we had to contact, I definitely think the whole process could be simplified to eliminate such confusion and setbacks."
Hatch highlighted the fact that none of this would have been possible without the help of club advisor Zach Murray, formerly of the Controllers Office but now with the Shakespeare Festival. Murray has been able to offer advice and direction for the club as a coach, while also having a knowledge of what the team is going through. Some of these include, but are not limited to, fundraising and scheduling of space.
Having worked a lot with SUUSA and other clubs on campus, Murray saw that centralized scheduling did a good job for the team, but learned they rely on others in order to issue a response, which from Murray's experience, doesn't always happen.
"Even when we get space scheduled, it seems like no one really cares to make sure sprinklers are off. They were on every practice we had in the first two weeks, or if the gates/goals are unlocked/opened as they should be," Murray said.
While Murray said he understands nothing can be perfect, he summed up the reality of the situation in a few words.
"A problem we face is that as a club, the athletics department doesn't want us to use their space, and neither does campus recreation. There simply isn't enough space on campus to support the number of groups that need to use space," he said.
Murray also went into detail on how SUUSA can help in some ways, but for the most part, the burden of financing the club and making it successful rests with its members.
"With that in mind, we set out to do periodic fundraisers, such as indoor/outdoor soccer tournaments, to raise money for equipment to get us started," he said. "However, that only covers a fraction of the cost. Even after looking to businesses and individuals in the community for sponsorship, we will still have to come up with our own money to cover travel costs of the games, to pay ref fees, registration fees and other fees associated with playing."
Hatch and Murray did mention that some funds from SUUSA have trickled down to them this year, following much petition, and the club has received help to cover some of the cost of uniforms for the upcoming season.
"While we receive sporadic moments of assistance, the reality is that as an Inter-Student Club we don't have financial support of the University, and we have little support in general," Murray said. "We are doing what we can to promote soccer on campus, and we have every intent of making this club successful and will recruit players off-campus to come here and participate in the club."
Hatch and the Men's Soccer Club ask that the University and its students support the club, however they can, for he ultimately values what he has gained from the process and is happy for it.
"All struggles aside, starting the Men's Soccer Club at SUU has been amazing," he said. "I have learned so much, and I am grateful this club is up and running because that's really our biggest goal — to not just have fun playing pickup ball but to establish a well organized, long-lasting tradition of competitive soccer. Not just at SUU, but in Cedar City, as well."
The soccer team has upcoming games this season, several at SUU and some away. The next game will be in Cedar City on Sept. 12 against Utah Valley University. There will be two others the following week in Salt Lake City against Weber State on Sept. 19 and against LDS Business College on the 20th.
Students can show support by attending, and hopefully participating, in the club's soccer tournament this weekend on the 5th and 6th. Anyone can make up a team, and it is only $10 per person to play.
Contact Butch Hatch at 435-669-3649 for any questions concerning times, dates, etc. concerning the club team.