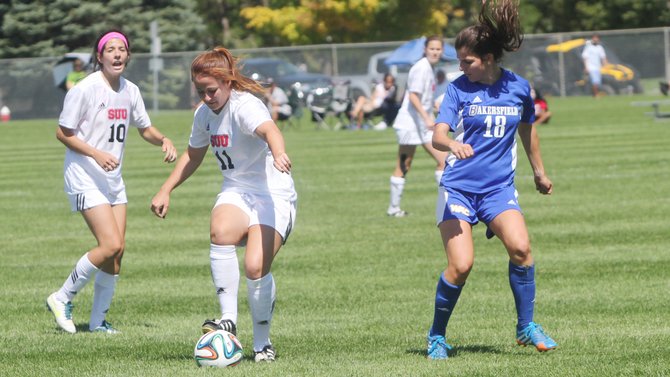 After taking a week off, the SUU soccer team will return to the pitch this weekend to kick off its Big Sky Conference slate with a pair of home matches.
The T-Birds (3–3–1) currently sit in sixth place in the Big Sky Conference, but the rest of the season's matches will determine which team makes the playoffs.
SUU head coach Becky Hogan said she is happy that Big Sky play has come.
"It's conference (play)," she said. "It's a clean slate, and it's a chance to see if all of your plans, hard work and everything the girls have done will pay off."
Heading into conference play, the T-Birds have won three of their past five matches and have scored 14 total goals. SUU is currently tied for second in the conference for most goals scored.
In their past two matches, the T-Birds were able to win in double overtime, something forward Madison Wood said she thinks will be a positive. She added that she thinks the non-conference play helped the team work out little kinks.
"We had a lot of freshmen coming in," Wood said. "I think having those seven matches made it easier for us to find a cohesive (style of) play and get used to all the new people coming in."
With all the talent her team has, Hogan said the one strength that sticks out to her heading into Big Sky play is the way the team never quits. Another strength that Hogan said she saw in the team is the depth of their roster.
"You could (substitute) any player, and I say this with pure confidence, there is no drop off," Hogan said. "We could go 20 deep with no drop. It's insane. That never happens in college soccer, not at our level."
Of the 26 players on roster, 24 of those players have seen playing time during the non-conference stretch of games.
At the goalkeeper spot, Hogan said she has yet to decide whether she will start Taylor Bolding or Tessa Christensen. She cited the depth at the position as to why she has yet to make a final decision.
At the beginning of the season, the T-Birds were picked to finish eighth in the preseason poll. Also before the season started, the Big Sky Conference announced it would be changing its playoff format from four to six teams.
In order to make the new six-team playoff, SUU will need all the help it can get, and Hogan said she thinks opening conference play at home will help a lot. The T-Birds play a pair of meets at home this weekend, along with one more next weekend against Idaho.
"The field looks gorgeous," Hogan said. "Our crowd has been awesome. We're giving away the farm this weekend. … We're doing everything we can to engage people in our team and get to know the game. We're still riding that World Cup high where everyone is still pumped about soccer. … We're really excited."
This weekend, the Sacramento State Hornets and the Portland State Vikings will come to Cedar City. Sacramento State will be Friday at 4 p.m., and the match with Portland State will be at noon Sunday.
Along with each game, there will be different events going on.
During Friday's match, there will be a bouncy house and adventure slides with free wristbands being handed out. Sunday there will be a free barbeque with games that will allow fans to meet and hang out with members of the soccer team.
However, the main events for each match will be the soccer itself. The Hornets, who were picked to finish in seventh in the preseason polls, will enter the Thunderbird Soccer Complex with a 5–4 overall record.
Forward Kristen Bridges leads the team with two goals, and midfielder Lydia Bowman leads with three assists.
Sunday's matchup will be against the Vikings (3–3–2), who were picked to finish first in the Big Sky, just a few votes ahead of Weber State. The Vikings return most of their team from the past season, with 10 returning starters and three players who earned all-Big Sky first team recognition.
Among the 10 returning starters, 2014 Big Sky Defensive MVP and Co-Goalkeeper of the year Caitlin Plese will take to the pitch this season.
With the upcoming challenges in the conference, defender Jessica French said she is excited for the challenge of Big Sky play.
"I've been going through the motions and now, I'm getting into it," she said. "We're ready to go into conference play."